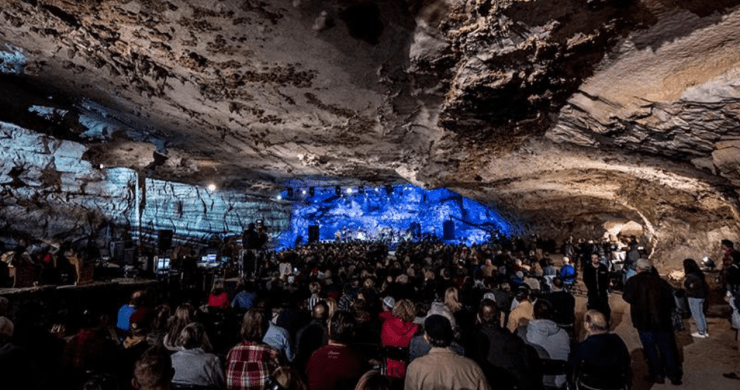 We'll be camping less than 10 miles from the amazing Caverns that hosts Bluegrass Underground.  Their artist lineup for its 10th season, which tapes at Pelham, TN's underground cave venue, The Caverns. Artists scheduled to perform on the acclaimed PBS music program include Moly Tuttle, Asleep At The Wheel, Cam, Goose, The Milk Carton Kids, Courtney Marie Andrews, Sam Lewis, Yola, Blind Boys of Alabama, Black Pumas, and Mandolin Orange.
REGISTRATION DETAILS (Three-Step)
1.  Campsite.  They are giving us a 10% discount, but you must call the RV Park to make your campsite reservations as their online system can't handle it.  PLUS tell them you are with the East TN Airstream Club so we will all be in the same area.    It is recommended that you do this before March 1 to be assured a spot.  You don't want to be disappointed.
2.  Music at The Caverns.  $75 each ticket.  thecaverns.com  Call to get your own tickets.  SELLING OUT FAST!  On the Rally weekend the performers will be: Asleep at the Wheel, CAM, Goose, and Molly Tuttle on Friday March 27; on Saturday, March 28 Asleep at the Wheel, Black Pumas,The Blind Boys of AlabamaCam, Goose, Mandolin Orange, The Milk Carton Kids, Molly Tuttle, Sam Lewis, and YOLO. Tickets are $75.00 per person for each night or, one can purchase a "package "deal. The website for tickets is thecaverns.com.
2.  Rally Registration.  Attached.  Scroll to the bottom.  Print and mail to the rally host OR scan and email to the rally host so that we know that you are coming.