Access to the Event Registration Lists (Registered Attendee List) for all Events is now only accessible to WBCCI Members through Log-In via the Membership Portal.
---
NOTE: The "Cinco de Mayo Fiesta Dinner" is Thursday night, May 5th at 5:00 PM
---
Roper Lake State Park Rally - 2022, May 5th- 8th 
"Cinco de Mayo"
The Pinaleño Mountains are the single-most diverse mountain range in North America and hosts 11 endemic species that are found nowhere else on Earth.

Roper Lake State Park includes a boat ramp, a beach for swimming, a picnic area, a campground, and cabins. The lake is stocked with bass and trout, and boats are limited to small electric motors. Hiking trails are available, and the park is a place for birdwatching. This scenic park in southeast Arizona is in a beautiful location surrounded by the sky island Pinaleño Mountains range, including Mount Graham.

At 3000 feet, Roper Lake features comfortable early May temperatures with average highs of 86 degrees and lows of 49 degrees. 

On Thursday night enjoy a Cinco de Mayo Fiesta Dinner, Arizona Airstream Club Style. Stay afterwards for the inevitable Tequila tasting. You know we throw a good party.

The comfortably spaced scenic campsites are accessed via Smooth roads. Cottonwood Loop: We've reserved 22 sites with water and electric hookups (20/30/50 amp). Each site includes fire rings, picnic tables, and a small shade Ramada. Cottonwood campground has a bathroom with hot showers. Most sites will accommodate a vehicle length of up to 45 feet and are back-in only. (Reserved sites: 1-18, 20, 22-24.)
The park has a sewage dump station. The dump station is only available to registered campers.
Roper Lake has two shower buildings located in the campgrounds. These buildings are handicap accessible and have hot running water. There is no extra fee to use the showers for registered campers. They are open year-round.
Roper Lake State Park has modern, clean, handicap accessible restrooms in the Visitor Center. There are also two restroom/shower buildings in the campgrounds that provide easy access for park users.
---
Schedule and Details
The Rally Fee is set at $45.50 per person and includes 2 Breakfasts and 2 Dinners
Campsite Fees are $98.50 for three nights (includes Reservation Fee and Processing Fees)
---
Roper Lake Rally Agenda
Things to do there… There is hiking, fishing, swimming, kayaking, boating and Mt Graham!! We love exploring Mt Graham. Town of Safford is an 11-minute drive north.
---
May 5th Thursday - arrive and settle in.
5:00PM - Cinco de Mayo Fiesta Dinner (Included in Rally Fee)
Beef and Chicken Tacos with all the fixings

Mexican rice and Black Fiesta beans

Campfire Queso with Chips

Lemonade
Bring your homemade salsa. Sweet, mild, hot, hotter, chunky, smooth…. We will all vote for our favorite and crown the winner the AZ Airstream Salsa Guru!
Bring your own Margaritas, Mexican beer or Sangria!
---
May 6th Friday - Explore the park, take a hike, kayak, go fishing…
12:00PM - Gather on the peninsula at the Ramada for a picnic. You can walk over or drive and park very close. Bring your lunch and drinks, a picnic blanket or chair, your fishing pole, go for a swim. There's a beach. Might get a visit from the ranger to talk about the area and wildlife.
Dinner on your own today.
Some might want to go into Safford to eat. It's an 11-minute drive. A few restaurants worth mentioning…
The Plank - American Bistro, Burgers, Fish n Chips
Branding Iron - Steakhouse
Casa Manana - Mexican
Copper Steer - Steakhouse
Red Oven - Pizzeria
- or - just a couple minutes south of the lake is
C&Cs Hideaway - bar and grill for killer burgers
8:00PM - Meet at the campfire to swap stories and make s'mores.
(How many kinds of s'mores have you tried…bring your ideas to share)
---
May 7th Saturday
8:00AM - Meet for Biscuits and gravy, Fruit and Hot coffee (Included in Rally Fee)
Today you might want to explore Mount Graham (Pinaleno Mountains). It is an extraordinary drive to the top with much to see along the way. Have a picnic at the lake on the top, then home for dinner.
5:00PM - Cocktails and Potluck Hors D Oeuvres 
6:00PM - Dinner (Included in Rally Fee)
BBQ chicken, cowboy beans, apple slaw,
Potato salad, rolls, and butter
Delicious Dessert!
8:00PM(ish) - gather round the campfire
---
May 8th Sunday
8:00AM - Pastries from a Local Bakery and Hot Coffee (Included in Rally Fee)
Say Adios to your Amigos!
---
Current Park Notices: 
Only campground-friendly generators will be allowed. Due to the water levels in the lake being low, launching some boats may not be possible. Please call the park for more information. 

The Roper Lake hot tub is permanently closed.
---
Area Attractions
The nearby community of Safford offers antique stores, restaurants, a golf course, and museums.
Pinaleno Mountains
Take Highway 366 nearly all the way to the top of Mt. Graham. This scenic drive offers spectacular scenery from the desert floor to a lush green mountain forest. Several recreational opportunities exist along the way, including hiking, camping, and fishing. The summit of Mt Graham is 10,717 feet. (928) 428-4150.
Riggs Flat Lake
At 8,600 feet in the Pinaleno Mountains. This 11-acre lake offers a campground and fishing opportunities. Trailers over 22 feet are not allowed. The campground is open from May through November 15, weather permitting. (928) 428-4150.
Gila Box Riparian Natural Conservation Area
This area offers camping, picnicking, touring, wildlife viewing, hunting and fishing, and floating the river. (928) 348-4400.
Cluff Ranch Wildlife Area
This area offers fishing, hunting, hiking, wildlife observation and photography, and limited camping. The site includes a picnic area, three fishing areas, and trails. (928) 485-9430.
Black Hills Back Country Byway
The Byway is unpaved, but accessible to high clearance vehicles during dry weather. It is 21 miles long with narrow drop-offs and steep cliffs, limited to vehicles under 20 feet in length. Kiosks along the way will explain about the natural and cultural history, geology, and wildlife in the area. (520) 348-4400.
Aravaipa Canyon Wilderness Area
Arivaipa Canyon is a deep wilderness gorge of outstanding natural beauty. It is 11 miles from one trailhead to the other. The canyon is closed to motorized vehicles and equipment. A permit and fee are required in advance to enter the canyon. (928) 348-4400.
Hot Well Dunes OHV Sand Dune Recreation Area.
Also includes fenced in concrete hot tubs fed by Artesian mineral springs. (928) 348-4400.
Discovery Park: Nature's Hideaway
This nature hideaway offers specially designed viewing areas to watch wildlife and trails to walk through different habitats. Gov Aker observatory is also located at the park and offers a full motion flight simulator on a ride through the solar system. The observatory houses a 20-inch reflecting telescope and a 0.5-meter radio telescope. (928) 428-6260.
Mt. Graham International Observatory
Discovery Park conducts tours of the telescope at the Mt. Graham International Observatory. Tours run every Saturday through late fall, weather permitting. (928) 428-6260.
---
(Reserved sites: 1-18, 20, 22-24.)
---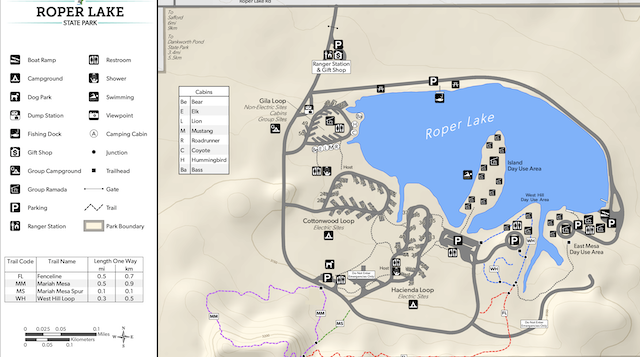 ---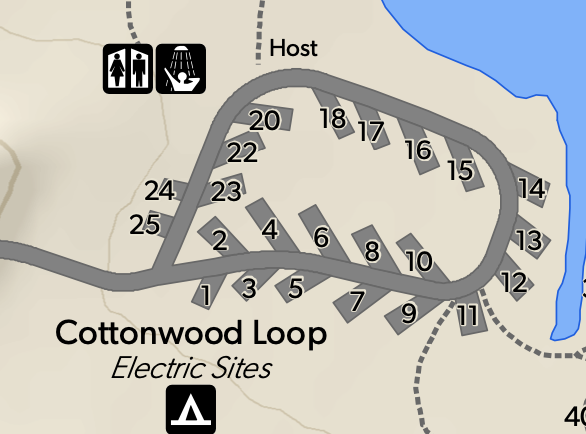 ---