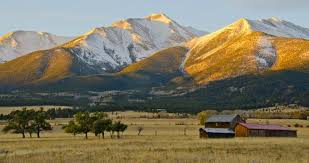 Due to the Coronavirus, this will be a no-frills event (aka Just Campin') which will adhere to whatever state, local and campground rules apply at the time of our event. 

Reservations:  There are 24 sites being held for our event, .Our reservations must be completed by June 30 at the latest. After that the campground will give our un-booked sites to their public waiting list.  Attendees need to call 719-395-2323 to make reservations with the campground to get the allocated sites and 10% group discount. Do not make reservations on the campground's website. Those reservations go through a 3rd party that cannot process our group plan. Rate is $62.10 per night

Refunds:  The campground's normal policies and penalties are waived for cancellations. If the state or county causes a cancellation, full refunds will be given with no penalty. If one of our members decides to cancel otherwise, a full refund minus a $20 booking fee will be given. 
Arrowhead Point RV Resort is the home of the original 1800's Pony Express and Stagecoach Stop.  The bunkhouse and tack room remain on the property from the 1800's when it was one of 165 way stations on the Pony Express route.  The owners are super nice and very happy to have the Colorado Airstream Club back this year.
Shari & Rob Davis         Shari@insideout-design.net