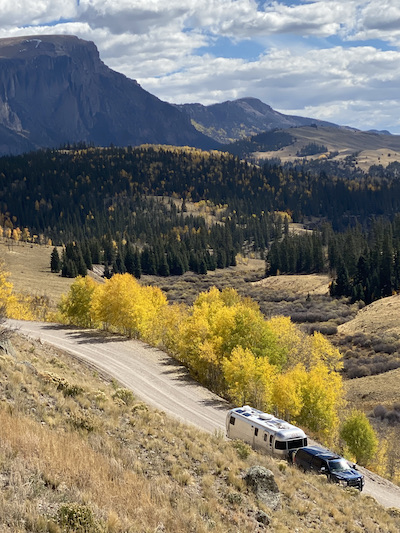 A completely different rally in Creede! 
A SNEAK PEEK AT WHAT'S WAITING FOR YOU
This promises to be a special event in several ways, most notably:
We'll be parking in Wally Byam's "Wagon Wheel" formation on the private 165-acre ranch of Michael and Becky Carmichael, near Creede.  No campsite registration is needed and camping is FREE!   Just sign up with CAC. Why did Wally park 'the wheel?"  He knew that there is magic inside that wheel.  People gather, bond, and learn as they are drawn to the "center.'
You can't beat Creede for fall colors and this rally is scheduled to them at their peak.  Click on the link to Enjoy the Creede Photo Album.  Whether you arrive through Lake City or South Fork, allow time to stop and take in the vibrant colors.  We have hikes, Wheeler scenic drives (photos) , an Underground Mining Museums and some extraordinary "secret' fly-fishing opportunities on the schedule. 
This is a DRY CAMPING event.  There is no power, no water, no sewer dump.  Solar power and/or generators are recommended, since we will be camping 3 nights in mid-September at an altitude of 8700'.   If you are not familiar with dry camping, this is a great place to learn the tricks.  In these days of full campgrounds, knowing how to dry camp opens up a world of camping possibilities in the most beautiful locals. 
The registration link will be posted to https://airstreamclub.org/cac-wagon-wheel-rally-creede and emailed to all members and affiliates.  As soon as the rally fills a waitlist will be posted to the website. 
Since we'll be parking in a "Wagon Wheel" the number of trailers IN EACH LENGTH will be limited.  
28-33' Trailers, 8 sites

27' Trailer, 1 site

25' Trailers, 4 sites

23' and under Trailers, 6 sites
Overflow parking is removed from the Wagon Wheel and up a hill overlooking the rally site.  It is a fairly level field, but a bit bumpy.  4 trailers, any size: 
The registration form will limit registrations based on the trailer length.  If sites for your length trailer have been taken, you can reserve a site LONGER than your trailer, but not shorter.  Please be courteous and reserve the shortest AVAILABLE site. 
Tentative Schedule – Rally Fee Covers Meals  Vegetarian options are available. 
Monday, Sept. 19 – arrive 10 a.m. – 2 p.m.  You may be asked to arrive at a specific time, depending on trailer size. 
Campfire dinner – Hot dogs with fixin's, baked beans, s'mores   Bring skewers if you have them.
Tuesday, Sept. 20 – Open Grill.  Bring your own meat to grill.  Bring a side dish to share. 
Wednesday, Sept. 21 – Cast Iron Cooking Dinner on an open fire pit. Bring your cast iron if you have it.  Recipes will be strategized closer to the event.
Hike – South Clear Creek / Fly fish Michael's favorite 'honey hole." 
Thursday, Sept 22 – Depart at your leisure.  There's no check-out time. 
If this all sounds exciting, don't hesitate to register as soon as possible.  This event is likely to fill quickly.