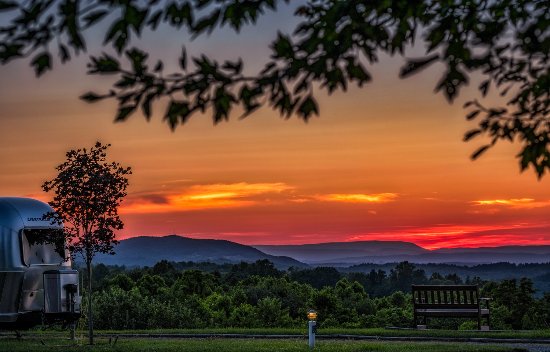 Come Join Us for a Breathtaking Retreat in the Virginia Mountains! September 17-20, 2020
Virginia Rally at Virginia Highland Haven Airstream Park
6517 Highland Haven Road NE, Copper Hill VA
Virginia Highland Haven is one of our most popular rally locations – a picture tells it all – gorgeous mountains, stunning sunsets, and cool mountain breezes!  Located just 5 miles from the Blue Ridge Parkway, 25 miles south of Roanoke, Virginia.
In 1970, several members of the WBCCI Virginia Unit purchased a 75 acre farm in the scenic Blue Ridge Mountains of southwestern Virginia for an Airstream exclusive camping destination.  Through a private stock offering and their own labor, they obtained the resources to construct a 46 site full hookup campground along the property ridge line.  The vision of the original forty-six founding stockholders, as well as the good stewardship of stockholders who followed, have allowed Virginia Highland Haven to continue as a premier camping destination for the Airstream community for nearly half a century.
Things to See & Do Near Highland Haven
– Blue Ridge Parkway and Hiking Trails
– Floyd, VA – Enjoy bluegrass music on Friday nights in town
– Bottom Creek Gorge Nature Preserve
– New River Trail State Park – 57 miles of bike trail on an abandoned railroad
– National D-Day Memorial
– Blue Ridge Music Center
– And much more!
Campground Information
– 46 paved sites with concrete patio sites, water, sewer & 30A electric on all sites
– Clubhouse w/ laundry
– Hiking trails, and a waterfall!
– Driving Tip: Some GPS systems can give unreliable directions leading you to very RV-unfriendly roads.  It is highly recommended to follow the driving directions posted on Highland Haven's website – Click Here for Driving Directions
We hope you can join us!