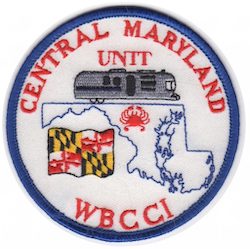 Central Maryland Unit
The Central Maryland Unit (CMU) is part of WBCCI region 2.  The unit was chartered June 20, 1977  after breaking away from the Mid-Atlantic Unit.  Although its name implies the Unit covers only the central part of  Maryland, in reality it covers the entire state.  We have many members that constantly travel across the nation but consider Maryland as their home.  Since its beginning, CMU has been an active unit hosting functions almost every month.  During the winter months, there will be luncheons or dinners to keep us active until the rally season (which runs from April until November) begins again.  In most years, unit members join together for a caravan to the International Rally.  Unit members come from all walks of life and all stages of life. We recently have seen an influx of new and active members all of whom offer new and innovative ideas.  CMU members have been active on all levels of WBCCI. 
 
CMU members are not only Airstreaming friends, they consider CMU as their second family.  The entire Unit looks forward to welcoming new members both young and old, experienced and inexperienced Airstreamers.
Link to Legacy Website