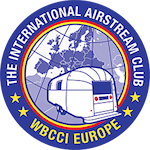 Europe Unit
Welcome to the European part of the International Airstream Club Europe Unit
There are hundreds of Airstream owners in Europe now and there are dealerships and specialist companies in many countries. WBCCI Europe was formed in 2015 as part of the Wally Byam Caravan Club International. It is a new part of the club and it is growing quickly across the continent.
Already we have a diverse group of members, ranging in age from their 30s to their 70s. A few are retired full-timers but most are a mix of young enthusiasts from a wide range of backgrounds. Most are experienced Airstreamers, helping with questions and problems, and sharing their experiences of travel throughout Europe.

We organise rallies and caravans as well as sharing fun, food, travel, advice and support with owners of iconic Airstreams, new and vintage, the most recognisable travel trailer in the world. photo gallery
The biggest assets in the Airsteam community are the people who own them and socialising with them is very easy and fun. Joining WBCCI Europe is the key to participating in the ethos that makes the Airstream International Club unique in the world.
Lindsey Such
1st Vice President
Caroline Rose
2nd Vice President
Ian Jamieson
Corresponding Secretary
Ulf Myhre
Membership Chairman