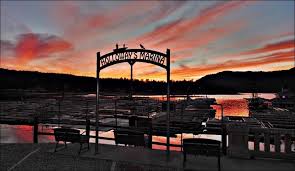 Enjoy one of the most romantic and family fun getaways in the Big Bear Mountains with your private RV site sitting right at Big Bear Lake with spectacular views. There is a convenience store within walking distance and many restaurants and attractions nearby. Plus, of course, you're directly next to Holloway's Marina where you can rent boats, go fishing, take a tour of the lake and more!
Due to current social distancing rules, this will not be a typical hosted event with potlucks and provided meals.  Jo Salzer is a Big Bear resident and is working closely with Holloway's.  She is available to field any questions @ 909-702-5095.
To make reservations, contact Holloway's directly at 909-866-5706 Thursday- Monday during business hrs of 8:00 am - 7:30 pm. and ask for Sue. Tell her that you are a member of GLAAC and would like to make a reservation for the club event. The sites are $60/night.  Payment information must be provided at the time the reservation is made. ALL RESERVATIONS ARE NON-REFUNDABLE. If we have a waitlist, there is a possibility of transfers.   If there isn't a waitlist, you will be able to reschedule for 2021 or later this fall if space is available.
Once you have made a reservation, please send an e-mail to Events.GLAAC@gmail.com.   If your plans change, please send an email so we can check the waitlist before cancelling with Holloway's.