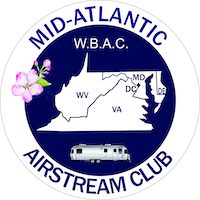 Airstream Club covering MD, VA, DE, WV, D.C.
Mid-Atlantic Airstream Club
Welcome to the Mid-Atlantic Airstream Club (MAAC) of Airstream Club International (ACI)! Finding us shows that you either have, or are seriously considering, an Airstream RV and looking for a fun group to join and share great experiences.

Whether you have a new or used Airstream / Argosy trailer or motorcoach does not matter as we welcome all flavors. As our club name implies, MAAC members come from all over the region which includes, West Virginia, Maryland, Delaware, the Nation's Capital (Washington DC), and Virginia; we also have members in Texas, the Carolina's, and a snowbird flock in Florida.

MAAC's activities include budget friendly ways of getting together for enjoying each other's company, exploring the local attractions, letting our children / grandchildren create awesome memories, and wherever possible we help the local economy.

Airstreaming is not just owning a brand of RV, it is a way of life. MAAC has a number of members whom started their Airstreaming life as children when their parents took them along in the silver tube; now, they bring their grandchildren. While the common Airstreamer is enjoying retirement, we have members still building careers and bringing along their children as Airstreamers-In-Training.

Joining MAAC is very easy and we are open to making everybody a part of the family. Annual dues are very affordable, US $10 to MAAC plus ACI dues, all payable online. For individuals joining MAAC as new ACI members, we cover your first rally fee with us. That's right, the first MAAC rally fees are FREE to you!

Take a look at our calendar page for upcoming events. At the moment we are sorting out how COVID-19 will let us play together and working our calendar accordingly. In addition to MAAC events, our listing also shows other clubs events as we frequently work together.

Come join us and help push Airstreaming into the future!
2021-2022 MAAC Officers
Ingrid Berkebile
President Christina Torcaso
Corresponding Secretary Christina Torcaso
Recording Secretary Jonathan Jacobs
Treasurer Jonathan Jacobs
Membership Chairman Jerry Pilcher
Newsletter Editor
Contact Us
Jonathan Jacobs, Membership Chair MD Contact
Severna Park, MD 21146