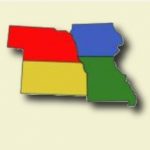 Iowa, Kansas, Missouri, Nebraska
Region 8
Camp. Rally. Travel. Explore. Caravan.
Join the Airstream Club; join the fun!

Local clubs -
*Greater St. Louis
*Missouri-Kansas
*Iowa
*Iowa North
*Missouri Greater Ozark
*Nebraska

Region 8 Vintage Airstream owners
*Spring Rally and Autumn Rally

We hope to meet you somewhere down the road.  
*Not an Airstreamer? Please contact one of us.
We will be happy to talk to you.

Camp in a sea of shining silver Airstreams!
Region 8 Events
Leadership
Greg Vadner
1st Vice President
Dale Ann Hoyt Hoyt
Recording Secretary
Shirley Herron
Membership Chair
Scott Allen
Vintage Airstream Club Rep.
Jodi Jensen
Membership Chair
Tom Herron
Region Caravan Leader
Fred Steurer
Parliamentarian
Contact Us
Shirley Herron, Membership Leader
Iowa, Kansas, Missouri, Nebraska
Contact