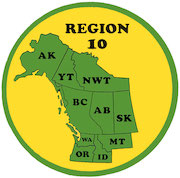 Region 10 Home Page
Region 10
Update: Michel Bourassa, Region 10 President has announced that the 2020 Region Rally in Lynden, WA, has been cancelled. The Region Rally will be rescheduled in 2021 at the same location, at a date to be determined.
Everyone who paid deposits or full fees for the Rally can rest assured that refunds will be sent out as soon as possible. We only ask for a little patience for the payment formalities to be arranged.


Region 10 7 active Units in our Region which encompass the largest geographic Region in all the  WBCCI (Wally Byam Caravan Club International) covering 5 states, 3 provinces, and 2 territories:  Alaska, Washington, Oregon, Idaho, Montana, British Columbia, Alberta, Saskatchewan, Yukon Territories, and the Northwest Territories.  We are the most Northwest Region!  Our local clubs are filled with diverse, enthusiastic Airstream owners who would love to have you join them in exploring the Pacific Northwest with your Airstream.
Region 10 Events
Region 10 Officers
Michel Bourassa
President
Terri Warren
Immediate Past President