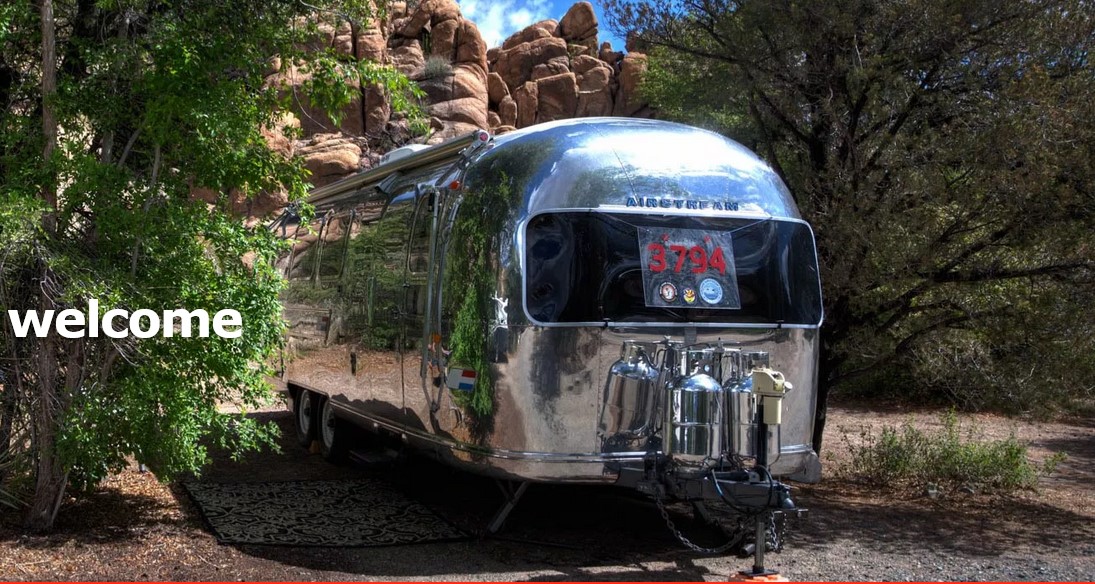 Prescott, May 6th thru 9th, "Prescott Point of Rocks Rally"
If you need to cancel your Registration, contact the Point of Rocks RV Park directly at 928-445-9018.
Prescott truly offers something for everyone. Downtown, historic Whiskey Row is known for its bars and live music venues.
The Sharlot Hall Museum documents the region's pioneer-era history. The Smoki Museum exhibits artifacts from indigenous peoples of the Southwest.
To the northeast, Watson Lake is home to hundreds of bird species, and a circuit of trails runs among the granite boulders dotting its shore.
Point of Rocks offers scenic full hook-up sites and advertises their rally capabilities showing a beautiful Airstream. Fun Fact: It belongs to Bob and Mary Lou Doster!
Kayakers enjoy Point of Rocks due to lake proximity, it's a short hike.
Our Prescott Point of Rocks campsites are full hook-up, with choices of Standard Site (30 amp Electric, water/sewer, Back-In, Center Island campsite with Picnic table), or Premium Site (30 or 50 amp Electric, water/sewer, Back-In, Spacious or scenic campsite with Picnic table):      https://pointofrocksrvcampground.com/
---
About our Registration:
This is a "Just Camping'" rally; We get together at a campground with no hosts but with a list of amazing things to do alone or with others on our contact list.
You are encouraged to plan the rally amongst yourselves and propose activities, meals, yoga, hikes, kayaking, museums, Whiskey Row or whatever suits your fancy.
Early Registration for our 20 sites (increased from 16) concludes on December 27th.
Registration is First-come-first-served priority for site selection on January 2nd when all campground sites become available for 2nd quarter 2021 camping via a callback system.
---
Arizona Point of Rocks Rally Registration:
During Arizona Airstream Club registration, you indicate your intent to book a Standard site for $48.91 or a Premium site for $54.23 per night including tax and fees.
Enter the information including trailer length, Standard or Premium site preference, your email, and a phone number you will answer for a callback on the morning of January 2nd.
YOU WILL NOT BE BILLED FOR THIS REGISTRATION THRU ARIZONA AIRSTREAM CLUB, but you will see an estimated cost that the campground will eventually charge you.
Arizona Airstream Club has reserved 20 sites (increased from 16), some Standard, some Premium, all near one another; they are not guaranteed.
On December 28th, Rick will carefully preload your information into the Point of Rocks registration system, a campground courtesy to our group.
On January 2nd at 12:01 AM, Rick will carefully enter your contact information into the Point of Rocks registration callback request system as it opens for quarterly registration.
Your information will be entered in the order of Arizona Airstream Club registration.
---
Point of Rocks RV Campground Registration:
On January 2nd at 7:30 AM the campground reservation manager will start sequentially contacting pre-registered campers to offer sites for rent.
When contacted, YOU PAY THE CAMPGROUND either $146.73 or $162.69 depending on your site selection and availability.
List - Arizona Airstream Club Registrants and Waitlist for Callback From Point of Rocks
---
At the Rally:
Hopefully, there are email threads suggesting activities, don't be shy proposing activities, especially if you are familiar with the area.
Have a great time! If you are having a little too much fun to leave late check out is available for $15
---
Important Notes:
Point of Rocks fills its quarterly sites quickly on January 2nd. This is the campground's busiest workday of the year. Your phone number will be called back. It is best to be available. Most Q2 sites may be filled by noon. If you miss the callback it may mean not getting a nearby site, or not getting one at all.
CANCELLATION: (required directly through contact with Point of Rocks) provides full refund with three days advanced notice. If there is a wait-list, contact our AAC registration host first to see if a transfer is possible before cancelling and releasing your site.
---