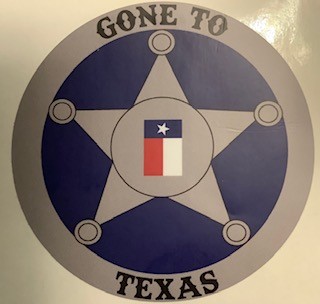 N-2022-X
Gone To Texas
The letters GTT were familiar during the early 1800's. They
meant GONE TO TEXAS. "Saddle up" and see why Texas was the place to be! We
will travel from Amarillo "Where the West Begins," visit Goodnights ranch, visit Buffalo
Country, Indian Country, Oil Patches, Calvary Forts, A World famous
Observatory, Mystery Lights of Marfa, Big Bend National Park.
Visit the Alamo, the River Walk, an Exotic Game Ranch, a dude Ranch and more!
Moderate hiking may be required for some events.
Start Date: 9/25/2022 Start Location: Amarillo, Texas
Amarillo KOA
1100 Folsom Road
Amarillo, TX 79102

Stop Date: 10/28/2022 Stop Location: Ingram, Texas
Total Number of Nights: 35
Number of Stops: 12
Leaders: Ronn & Rae Gilbert  #1450
Cell phone: 281-224-7870 (Ronn), 713-412-2838 (Rae)
Email: rmgilb3673@aol.com
Co-Leader: Jim & Pam Dudley #7174
Cell phone: 832-549-5042 (Jerry), 281-210-6130 (Tracey)
Maximum RV Units/With Leader: 26
Kitty Fee w/2: TBD
Kitty Fee w/1: TBD
Guest: TBD
Deposit Amount: $250
Dates of Payments (if applicable)
1.TBD
2.TBD
Cancellation Fee: $100 plus non-recovered expenses
Leaders discretion after: