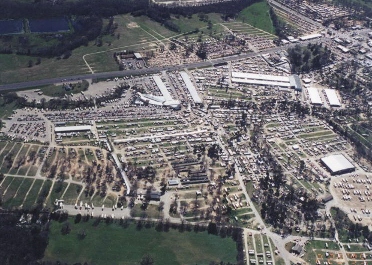 First Monday Trade Days in Canton, Texas is the oldest, largest continually operating outdoor flea market in the United States. This popular flea market is open one weekend a month, attracts upwards of 100,000 shoppers, and provides spaces for 6,000 vendors located on hundreds of acres with over 700,000 square feet of covered shopping.
We will camp on the Trade Days grounds. 
Trade Days requires us to send in a list of folks who want to camp in the specially reserved HOTC AIRSTREAM SECTION.  Their deadline for our submitting that list has been extended to March 1st.  So if you plan on attending this rally and you have not already told us,  please let us know ASAP HeartOfTexasCampingUnit@gmail.com  Include your name/s, address, phone #, length of rig and whether or not you want 30 amp or 50 amp hookup.   We will send that info in to the Trade Days folks so when you call for your reservation you will get on with our group.
THEN YOU MUST CALL (903) 567-6556 on or after March 8th to make a reservation. Tell them you are with the HEART OF TEXAS AIRSTREAM CLUB.  There is a three night minimum. You can choose to arrive on Thursday or Friday and stay 3 or 4 days.
For those who have never been here, it is something to see.  Bring your walking shoes.  Or you can rent electric carts to get you around and carry all the stuff you buy!!!   It is hard to fathom the extent of this place unless you have been there before. 
On Friday we will have a contest where everybody buys something silver colored for $5 or less.  These will be wrapped/bagged and numbered.  Then folks will draw a number out of a hat to see who gets what.  
On Saturday we will have a contest to see who can buy something weird, horrible, disgusting or strange for less than $5 (In the past years Mark Baird usually wins this hands down).  Each of these items will be bagged or wrapped up and numbered.  And then folks will draw a number to see what awful thing they get.