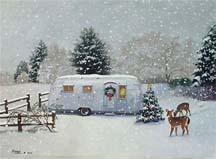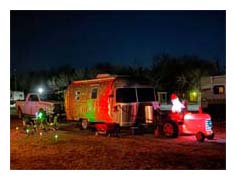 The Lakeside Campground and Recreation Area on the northern side of  Hords Creek Lake, Coleman, TX will be this year's site for our annual Christmas Rally.  
 
There will be a trailer decorating contest for outside decorations and a table decorating contest at the pavilion. Instead of  traditional "Pot Luck" dinners  everyone should bring their own meal on Friday and a light snack on Saturday night(because of the Aluminum Chef contest).  
Every couple (or individual) is asked to bring a small table which they can decorate if they want to enter the table decorating contest and at which they will sit for their meals.  This will help with social distancing while still allowing conversations and fellowship. 
And Saturday night will also be the Aluminum Chef Contest.  The "secret ingredient- Mint " this year was chosen by 2019 winner Scott Graham.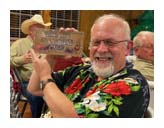 A brief ceremony will induct the HOTC officers-elect for 2021.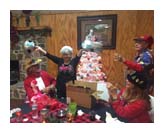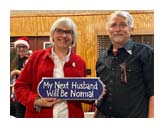 And the evening's highlight, the Chinese Gift Exchange will follow.  Each couple can bring one (or two if they wish) gift/s.
We have reserved the group campsite with pavilion and 10 sites in Loop A (sites 11-20).  John and Susan Coppedge will pay the $550 for this and the first nine members who want one of the remaining other 9 reserved sites will just let them know and reimburse them $55.  After those 10 sites are filled, others can reserve their own site in Loop A. 
Mark the dates and make your reservation at https://grandfungp.com/loyd-park-camping/
Please let us know you are coming by email at heartoftexascampingunit@gmail.com