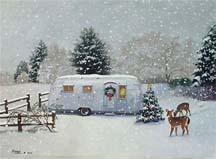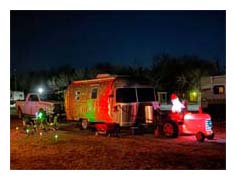 With full hookups, paved level sites and the spacious clubhouse, Coffee Creek RV Park in Santo, TX has become the traditional site for our annual Christmas Rally.  Undoubtedly, Rally Hostess Dashelle Murrin will plan a memorable evening.
 
There will be a trailer decorating contests for both inside and outside decorations, a best costume contest and a table decorating contest for the rally room. There will be"Pot Luck" dinners both Friday and Saturday nights.  And Saturday night will also be the Aluminum Chef Contest.  The "secret ingredient" this year will be chosen by 2019 winner Scott Graham.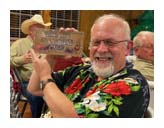 A brief ceremony will induct the HOTC officers-elect for 2021.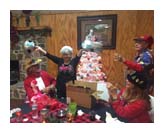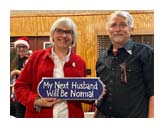 And the evening's highlight, the Chinese Gift Exchange will follow.  Each couple can bring one (or two if they wish) gift/s.
Mark the dates and make your reservation at https://coffeecreek-rvresort.com/ (and add AIRSTREAM CLUB in COMMENTS BOX)  or by phone (940) 769-2277 and tell them you are with the Heart of Texas Airstream Club. 
Please let us know you are coming by email at heartoftexascampingunit@gmail.com