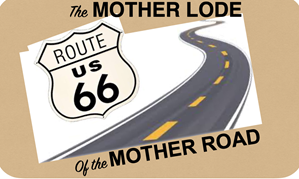 N-2023-W
The Mother Lode of the Mother Road - A Route 66 Adventure
Route 66 is arguably the most famous highway in the world.  For most of us, the mere mention of it brings back memories of family vacations, picnic lunches at roadside parks, souvenir shops and "are we there yet?"   Join us as we take a "bucket-list" trip from Chicago to Los Angeles, over 2200 miles, across 8 states, through three time zones, and with hundreds of "oohs" and aahs, " following as much of the pre interstate alignment of the road as possible.
We will explore the history of the road itself, the evolution of transportation and tourism during the road's heyday, the history of cities and towns along the way, and the art, culture and food that still give the road it's flavor and appeal.
Just a few of the highlights:
Chicago/Joliet: beginning of Rt 66, Willis Tower, River cruise,
     Millennium Park, Rialto Square Theater, Frank Lloyd Wright
     Home & Studio, Ernest HemingwayBirthplace.
Pontiac IL: Rt 66 Hall of Fame/Museum, Pontiac Oakland
     Auto Museum
Springfield IL:  Lincoln Presidential Library & Natl Historic Site
St. Louis MO: Gateway Arch in St. Louis, Mississippi River Cruise,
     Chain of Rocks Bridge, Confluence Tower, Fox Theater
Meramec, MO: Meramec Caverns, and Jesse James Hideout
Springfield, MO: Devils Elbow Bridge, Gillioz Theater, Wilson's
     Creek Nat'l Battlefield, Historic Rt 66 Drive-in Theater
Tulsa, OK: Will Rogers Memorial sites, Packard Museum
Oklahoma City: Oklahoma City Memorial Museum,
     Nat'l Cowboy & Western Heritage Museum,
Amarillo TX:  Jack Sizemore RV Museum, Big Texan restaurant,
      Cadillac Ranch, National Quarter Horse Museum,
Santa Fe, NM: La Plaza, a Harvey House Inn, Museum of Indian
     Arts & Culture, Georgia O'Keefe Museum
Albuquerque NM: Pueblo Cultural Center, Petroglyph Nat'l
     Monument, Rattlesnake Museum
Gallup, NM: El Rancho Hotel, El Morro Theatre, Santa Fe Depot
Holbrook/Winslow AZ:  Petrified Forest Nat'l Park, "Standing on the
     Corner in Winslow AZ", La Posada Hotel
Flagstaff, AZ: Grand Canyon Railway/Bus Tour of Grand Canyon
Needles, CA:  Old Trails Bridge, side trip to Laughlin NV casinos,
     Oatman Ghost Town
Barstow, CA:  Calico Ghost Town, Amboy Crater,
Los Angeles, CA:  LA Highlights Bus Tour, San Dimas, Pasadena
     highlights,  End of Rt 66 bus tour, sunset dinner at
     Santo Monica Pier,
And of course, the countless vintage neon signs, quirky roadside attractions,  historic service stations, classic retro diners and motels, that Route 66 is famous for!
Notes to consider:
1)  We expect there will be 4-5 long days of touring via tour bus.  We will make every effort to locate pet sitting and/or kennel services for our furry family members, but ultimately it will be your responsibility to decide how to handle these long touring days.
2) We are tentatively planning 1 or 2 nights of boondock camping at a historic Route 66 site.  If this is a significant concern for you, please contact the Caravan Leaders for the current status before you register.
3). We will be have a few travel days at high altitude: anyone with health issues related to high altitudes should be aware this!
4). We will be traveling in the fall through a variety of altitudes and climates.  Be prepared for temperatures that could range from the mid 70s down to the low 30s - pack layers!!
5) Drivers should be comfortable driving in mountains as well as in metropolitan areas.
Start Date: 9/10/2023
Starting Location: Joliet, IL
Stop Date:  11/8/2023
Stop Location:  San Dimas, CA
Total Number of Nights:  59
Number of Stops:  21
Leaders & WBCCI #. Tom and Vicki Ketchum, #5809
Home phone:      317-339-5777
Cell phone:          812-322-6075
Email:                  tvketchum@gmail.com
Maximum RV Units/With Leader:  25
Kitty Fee w/2:   $8200
Kitty Fee w/1:   $6400
Guest:              $2000
Deposit Amount: $850.00 upon acceptance to caravan
Dates of Payments (if applicable)
          1.  1/2 remaining 1/1/2023
          2.  Balance   6/1/2023
Cancellation Fee: $100 plus non-recovered expenses                 
Leaders' discretion after 6/1/2023