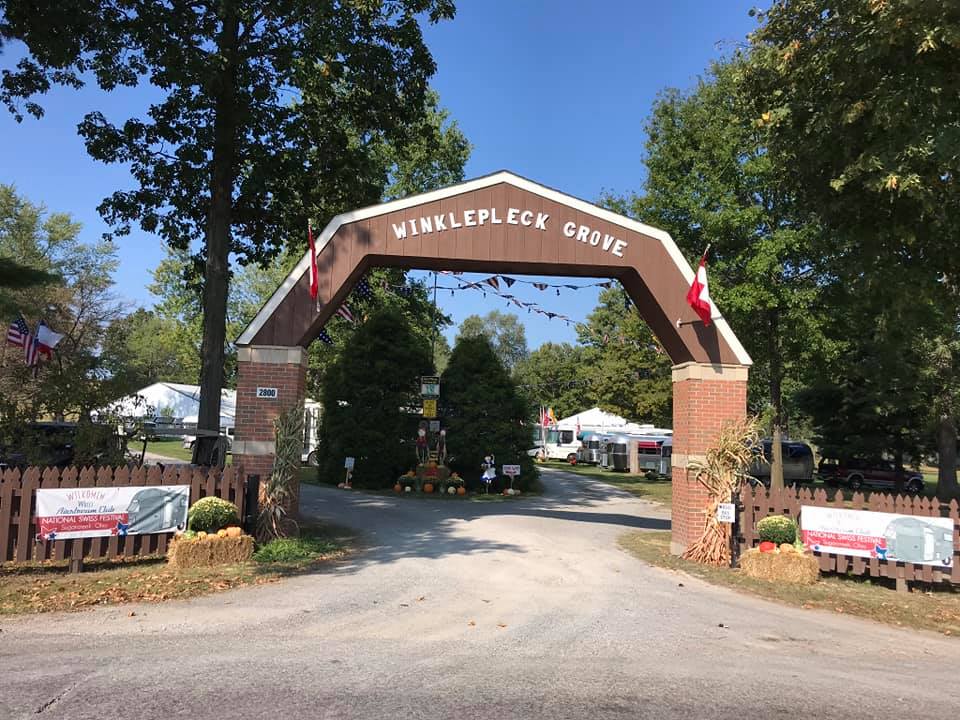 The Annual Swiss Festival National Rally, the oldest continuous running trailer rally in the world for Fifty-seven years, was cancelled in 2020 due to the Covid-19 Virus Pandemic. Looking forward to 2021, the Fifty-eights rally is scheduled for September 25 – October 3, 2021.  Fifty-seven years makes this the best rally. If you don't think so, just ask a friend in the club. There are members that come back again and again. Dollar for dollar, there is nothing that can come close to the value of this rally.
Come Join Us For A Fun-Filled Rally!  Park at Winklepleck Grove for nine days of fun, fellowship, excitement, and new things to see and experience.  We provide water, 7-amp electric, 1 black water dump, a wide variety of tour choices, nightly entertainment, hospitality, and door prizes.  Pets are welcome!  Play a game of golf at the golf course adjacent to our rally site.  Enjoy a delicious home-cooked dinner in an Amish home or nearby restaurant.  Shop in the many furniture, gift, antique, and craft shops in the area.  Buy world-renowned Swiss cheese to take home and share with friends and family.  Take in the sights, smells, and sounds of the 67th annual Swiss Festival October 1 & 2 when we shuttle you downtown for the festivities and parades.  Bring your motorcycle and enjoy the back-roads tour planned for you.
Our "Day in the Park" on Thursday features some homemade Amish baked goods, Amish craftsmen, and free horse 'n buggy rides, along with our own Airstreamers' Hobby/Craft show, Flea Market, Golf Tournament, homemade ice cream, fresh popcorn, and a ham and bean dinner cooked in huge kettles over open fires.  We'll put you in a toe-tapping, festival mood after the Joey Tomsick Orchestra entertains us before their annual downtown performances at the Swiss Festival.
Sugarcreek, Ohio is located in the rolling hills of Tuscarawas County, 8 miles west of Dover (I-77) and 18 miles east of Millersburg (Holmes County) on scenic Route 39.  It is surrounded by a prosperous farming community and populated largely by the Amish.  With eight Swiss cheese factories located in the area, Sugarcreek is recognized worldwide as the center of some of the finest made Swiss cheese produced in the USA.