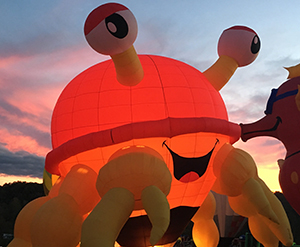 THIS EVENT HAS BEEN CANCELLED!
We will have parking convenient to the entrance to the festival grounds.  The festival will be located at the same site as previous festivals, adjacent to the Statesville, NC airport. This year's schedule is available at:   http://www.carolinaballoonfest.com/. 
There are two ways to sign up:
1.      Preferred, but may cause a delay until the page is updated - There is a password-controlled page for us to sign up to reserve a parking space. It should be updated soon, but it has not yet been updated from 2020: http://www.carolinaballoonfest.com/wallybyam-airstream-portal.html  Contact Al Waschka for the password. Please check to ensure that it has been updated before using it. This web portal is for use by rally participants only. Please do not distribute to non-attendees.
2.      Quicker, If you use this option, please let Al Waschka know. Sign up using the standard RV Parking application. If you do this, write "Airstream Rally" on the application when you send it in.
This will be a no-frills rally with no rally fee. We attempt to plan our happy hours and meals around the festival events which requires some flexibility as the event timing is dictated by weather conditions.
Note:
1. Reservations are not refundable, but the festival has committed to support transfer of a reservation to another person as needed.
2. This is boondock-style camping. Arrive full of water, batteries charged, and holding tanks empty! Generators are allowed and pets are OK in the camping area. There will be food trucks on site, but they have been crowded in the past. Exit and re-entry are possible, but not convenient, so best plan to bring enough food and drink for the rally.
In contrast to years past, when Haley Mills was our contact, our portal has not been opened in advance of regular registration. The festival has reserved 20 spots for us, but in order to guarantee a space with the club, our applications and deposits will have to be received before the slots fill up. As was done in 2019, the festival will start assigning spaces with WBAC at space 1 and the general public starting at space 75.