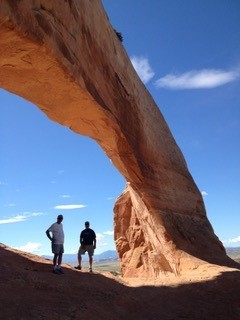 N-2022-G
Southwest Adventure Caravan
The 2022 Southwest Adventure Caravan will be in August, September and October capturing the serene beauty of the fall landscapes.  Beginning in Albuquerque, NM we will visit the Turquoise Museum, the Indian Pueblo Cultural Center and savor local cuisine.  What is around the bend in the Four-corners region of Colorado, Utah, Arizona & New Mexico other tourists may not see.  We visit Indian pueblos and Reservations to learn about their cultures from native guides.  The grandeur of the scenery will amaze you as we ride a narrow gauge train up to Silverton, CO; hike to the 'Palace' in Mesa Verde, or truck into Monument Valley. Moab, UT provides gorgeous views in the surrounding National Parks and excitement with 'slick-rock jeep riding.' Whether using a camera at Capitol Reef National Park, riding a mule into Bryce Canyon or seeing the 'Narrows' at Zion, the parks will captivate you. After seeing Zion National Park and the North Rim of the Grand Canyon, we'll spend four days beside Lake Powell enjoying a boat trip on the lake, a Colorado River raft boat trip and a walk to explore Gallup and then the finale at the Balloon Fiesta in Albuquerque.  We will have a chance to ride in a hot air balloon.  America the Beautiful Senior passes (formerly the Golden Age Pass) will save you money in the National Parks we visit at Mesa Verde, Arches, Canyonlands, Capitol Reef, Bryce Canyon, Zion and the Grand Canyon North Rim.  Come prepared to have fun with your fellow caravanners.  NOTE: This is an active caravan.  Anyone with health issues related to high altitudes should be aware that this caravan involves activities in some high-altitude areas.  
Start Date: August 15, 2022
Start Location: Albuquerque NM
Stop Date: October 3, 2022
Stop Location: Albuquerque NM
Total Number of Nights: 50
Number of Stops: 15
Volunteer Leader: Gary & RoseMarie Anderson WBCCI #812
   Gary 850-896-0567   RoseMarie 850-866-7658
   2800 W. 30th Court, Panama City, FL 32405
       SWACaravan@gmail.com
Volunteer Leader: Bob & Sue Heist  WBCCI #6401
   Bob 402-968-0823  Sue 402-304-1843
   6401 Rainier Drive, Lincoln, NE 68510
      SWACaravan@gmail.com
2022 Maximum RV Units/With Leader: 30
Kitty Fee w/2: $5,800
Kitty Fee w/1: $4,750
Guest: $1225
Deposit Amount: $500.00 payable upon request
Balance payable in two equal half payments
Cancellation Fee: $100 after Deposit Payment Made plus non-refundable reservations.