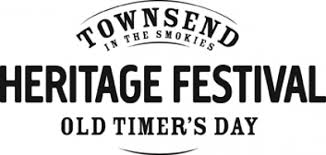 Manager Sandy 865-738-3665 We have 10 Riverfront and 10 Mountain View sites blocked. You must call Sandy for the discounted rate – do not use their website to make a reservation.
Rally Host:
Greg & Annette Hathaway, 414-460-2715 (G)
Boyd & Wendy Mitchell, 865-738-5411 (W)
Come explore beautiful Townsend, on the Peaceful Side of the Smokies! This is the perfect time of year to visit for the beginning of the leaves turning. If you've lived in Townsend like Boyd and I you refer to the Townsend Fall Heritage Festival as Old Timers Weekend. The Visitor's Center is alive with pickers and cloggers, food trucks and craft vendors.
Down at the Heritage Center you will find a village and garden, representative of the period in Appalachian culture and history. On Saturday is the Blue Ribbon Country Fair. There's plenty to do and see in Townsend, so you will want to stay a week! We are planning a fun filled weekend of fellowship and activities, based on the results of the survey. Don't wait to book your campsite! (One planned event is a hayride on Friday or Saturday night down to the farm to visit the animals at feeding time and hold a baby lamb!) Bike rentals will be available on property.
This is a very busy weekend so call Sandy (the manager) asap! Because it's the off-season the office phone will ring over to Sandy's cell, which is why the long ring time. If she doesn't answer
leave a message and tell her that you want to book for the rally to get your very special pricing -$68.85/night including tax! Wowza - (did I mention staying a week at that great rate?!?)
Townsend Fall Heritage Festival Description: a celebration of mountain and Appalachian arts and crafts. Features demonstrations, bluegrass and mountain music, an antique tractor and engine show, storytelling, children's activities, crafts by local artisans, basketry, spinning, weaving, sorghum molasses, apple butter making, lye soap, beekeeping, and blacksmithing. 9 am-10 pm daily. Events are held at Townsend Visitors Center & Cades Cove. Bring your lawn chair!
Description of Blue Ribbon Country Fair: Held at the Great Smoky Mountains Heritage Center, the fair is in its tenth year. This annual celebration of the old-fashioned county fair features
competition, games, music, historic demonstrations, and more.
Townsend Fall Heritage Festival Rally Itinerary
Thursday, September 28, 2023
 Arrival & Setup
 Meet & Greet at 5:00 pm: Everyone bring an appetizer to share and your drink of choice
 Dinner on your own
Friday, September 29, 2023
 Continental Breakfast at 8:30 am
 Heritage Festival at Townsend Visitors Center
 Cades Cove Bus Tour
 National Archives Tour
 Rally Meal Gathering: Everyone bring your own Setup and Beverage. There will be a sign
up for attendees to bring an appetizer or dessert. The main meal will be provided as
part of your rally fee.
 Happy Hour at 5:00 pm
 Dinner at 6:30 pm: Bluegrass Music/Entertainment during dinner by crowd favorite Jerry
Hensley and his band.
 Hayride
 Dessert
Saturday
 Continental Breakfast at 8:30 am
 Explore Townsend: Day on your own to attend the Heritage Festival at the Visitor's
Center, Blue Ribbon Country Fair at the Heritage Center or go hiking, golfing, horseback
riding, cavern tours, Little River Railroad tour, etc.
 Dinner on your own
Sunday
 Continental Breakfast at 8:30 am
 Depart by 11:00 am