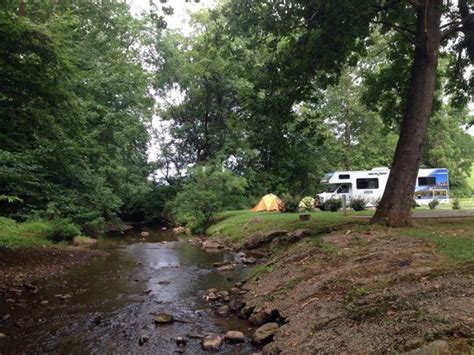 Misty Mountain Camp Resort offers a delightful, relaxing vacation at the foot of the Blue Ridge Mountains near historic Charlottesville, Virginia.  This scenic 50-acre park provides private sites nestled in the trees, and a large recreational building with banquet seating to accommodate any large group. 
Explore nature trails, splash in our pool, sit by the creek, fish in our pond, play at several playgrounds, climb our hills, shoot hoops, spike the volleyball or pitch horseshoes, take a hayride, enjoy live music and dances, shop at our General Store, shoot pool and play video games, relax in solitude - the choice is yours!  Click Here for Area Attractions Near Charlottesville
Misty Mountain Camp Resort has full hook-up sites.  
CAMPGROUND RESERVATIONS: Call soon to reserve your full hook-up site! 888-647-8900   IMPORTANT: Be sure to tell them you are with the 2022 Carolinas Airstream Club RALLY.   
IMPORTANT: Our Club's 2022 Caravan to Maine has blocked sites on July 18th (sites 1 - 25B).  If you are NOT on the Maine Caravan please ensure the campground DOES NOT put you in one of these sites.  
Also don't forget to Register with the Hosts!  Rally Fee: $10.50 per person.
We hope you can join us!
CANCELLATIONS: Click Here to cancel your registration with the Hosts and have your rally fee refunded.   REMINDER: You still need to call the campground to cancel your campsite reservation.