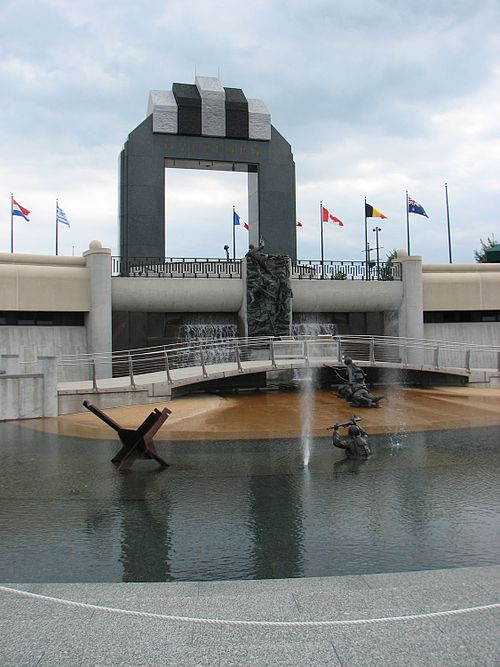 Our campground at Sedalia Center is located in beautiful Bedford County, VA; conveniently situated between Roanoke, Lynchburg, Lexington, and Bedford. Sheltered beneath the Blue Ridge Mountains, the campus spreads across 17 acres of sunny green lawns and wildflower meadows. 
While in the Bedford area we will visit the National D-Day Memorial on the anniversary of D-Day, June 6th.  You may be wondering why the National D-Day Memorial is located in Bedford, VA.  During the invasion of France on D-Day, Bedford, VA lost a greater percentage of it's sons than any other town in our country. The D-Day Memorial is a tribute to all who fought during the D-Day invasion in WWII.
On another day we will have an opportunity to visit the Appomattox Court House.
The Appalachian Trail and Peaks of Otter are nearby, so there are plenty of great hiking spots. You can also visit nearby Poplar Forest, Thomas Jefferson's private retreat. Bedford has loads of good spots to eat. There will be lots to see, learn and do on during our second stop of the June Rolling Rally.
CAMPGROUND INFORMATION:  PLEASE DO NOT CONTACT THE CAMPGROUND DIRECTLY. This will be a BOONDOCKING rally at the Sedalia Center.  Be sure that your batteries and fresh water tanks are full, and that your black and grey tanks are empty!
The Club has already made and paid for the campground reservations; therefore there is NO NEED to contact the Sedalia Center.  When you register with the Hosts at our website, you will pay the $20/night campground fee (total $60 for 3 nights) in addition to your $10.50/person rally fee. 
Hope you can join us!
Hosts: Cathy Yuille
Note: If you need to cancel or change a rally registration, Click Here for 2024 Rally & Event Cancellation Form.