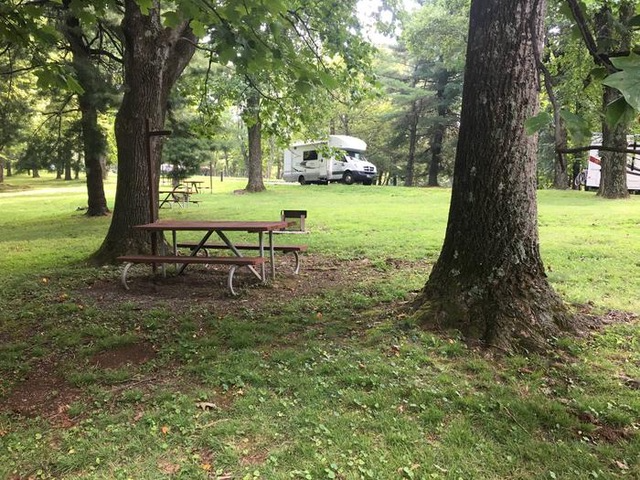 This quiet beautiful campground is right on the parkway. There are trails to hike, stars to see, sunrises and sunsets to view and plenty of music to enjoy at the campground and in nearby Floyd. You won't want to miss a stop at Mabrey Mill. Rich in history, Mabrey Mill is one of the iconic and photographed structures on the Blue Ridge Parkway. The gristmill and sawmill have been restored and the food at the restaurant is excellent. 
The campground, one of the first established sites along the Blue Ridge Parkway, is home to several geological attractions. 
Rocky Knob is located at milepost 167.1 on the Blue Ridge Parkway, 1.1 miles south of the intersection of the parkway and State Road 8, about 8 miles from the town of Floyd or about 90 minutes south of Roanoke. 
Your hosts are having a wonderful time planning meals and activities.
CAMPSITE INFORMATION: This is a boondocking campground - no hook ups. There is potable water and a dump station in the campground. 
CAMPSITE RESERVATIONS: National Park reservations can be made up to six months in advance.  After January 1st,  2024 you can reserve your campsite in the "T" Loop by visiting www.recreation.gov or by calling (877) 444-6777. 
After you make your campsite reservation, then hop over to the Carolinas Airstream Club website and register for the rally and pay your rally fee.
We hope you can join us!
Hosts: Ray & Carol Combs
Co-Hosts: Bruce & Marcia Thompson
Note: If you need to cancel a rally registration, Click Here for 2024 Rally & Event Cancellation Form.