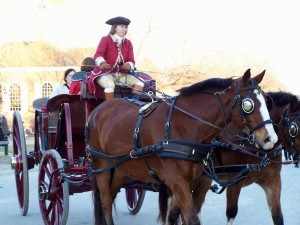 Come Join Us and Brush Up on Your History in  Williamsburg, VA!
September 16 – 19, 2021
Step from your RV right into history as you walk the paths and streets like George Washington, share a pint of ale in King's Arms Tavern, dine exquisitely for lunch or dinner and visit magnificently restored homes and buildings! A few centuries ago, the leaders of our new nation met in Williamsburg making plans to change the course of our nation.
Today, RV Clubs and Groups take advantage of  American Heritage RV Park's spacious 3,000 sq. ft. clubhouse with two meeting rooms, and plenty of room for event booths, model displays, and more. Every site features easy pull-thru's, full hookups, concrete pad and patio, and we're pet friendly.
CAMPGROUND RESERVATIONS: Call the Campground Office at 757-566-2133 and mention you are with the Carolinas Airstream Club Rally in September 2021.  The campground has held 20 campsites for us, reserve early to ensure you are camping with our group.
We hope you can join us!
See you down the road…
__________________________________________________
Things to Do & Visit In The Greater Williamsburg Area
Enjoy everything from luxurious spas, world-class golf and award-winning restaurants to living-history museums, surprising thrills, biking and hiking. Whatever your idea of fun is, you'll find it all in Greater Williamsburg.
Tasting Trail – Enjoy touring wineries, breweries and distilleries. From award-winning wine and micro-brewed beers to ancient mead and distilled spirits, experience the best of handcrafted alcoholic beverages in Greater Williamsburg.
Arts – The Williamsburg area is a place of artfully unexpected surprises. Satisfy your art cravings at more than 30 art galleries that specialize in folk art and fine art. You'll enjoy drums accompanied by fifes, but you'll also hear the drum beats that invite you to dance the night away at our many waterfront concerts and performance events.
Williamsburg Fall and Spring Arts are our seasonal celebrations of artfully good times created by our local artists, artisans, writers, storytellers, dancers and musicians, who invite you to come enjoy the fun.
Just For Fun – Busch Gardens, Water Country USA, Great Wolf Lodge, Premium Outlets, Ripley's Believe It or Not. Bike Hike Zip 52-mile Virginia Capital Trail. Freedom Park Trail. Go Ape Treetop Adventure
Jamestowne – At Historic Jamestowne, site of the original 1607 settlement, explore the Glasshouse to learn about America's earliest industries, see ongoing archaeological discoveries of the fort and view thousands of artifacts unearthed on display in the Nathalie P. and Alan M. Voorhees Archaearium. At Jamestown Settlement, explore a world-class living history museum that re-creates life in the Jamestown colony. Tour artifact-filled gallery exhibits, discover the Powhatan Indian way of life in a re-created village, try on English armor in a re-created fort and climb aboard replicas of the three ships that brought the colonists to Virginia in 1607. Read our itinerary to see how best to experience both attractions.
Yorktown – A place known for both its waterfront charm and its famous battles. Stroll through the boutique shops offering unique gifts and enjoy the freshest seafood and artisan fare at one of the fine restaurants at Historic Yorktown's Riverwalk Landing. Then wander along the York River's sandy beach, fishing pier and public docks, where the river bustles with visiting vessels and tall ships. Relive bygone days aboard the traditional schooners Alliance and Serenity as you glide down the York River. Take a guided Segway tour through the lively town offered by Patriot Tours and Provisions. Shop for fine art and antiques on Main Street's galleries and shops. Enjoy free outdoor concerts, open-air farmers markets, art strolls and wine festivals throughout the year. And if you need a venue for a special event, consider the Freight Shed, a charming facility with stunning waterfront views.
As you pause to admire the town's 18th-century architecture, it may be hard to imagine that fierce fighting ever took place nearby. But Yorktown was critical in both the Revolutionary War and the Civil War. At Yorktown Battlefield, part of the National Park Service's Colonial National Historical Park, you can see where George Washington secured America's independence in 1781. The Yorktown Victory Monument is here, as well as a Civil War-era National Cemetery. Nearby at the American Revolution Museum at Yorktown, a living history museum, you can experience the American Revolution firsthand through film, galleries, and re-creations of a Revolution-era farm and a Continental Army encampment. Costumed historical interpreters may even recruit you to join a cannon crew or help tend the crops.
Colonial Williamsburg
Colonial Williamsburg is the only place that takes you back in time to the dawn of America. This isn't just a place where things once happened. They're happening, right now, here in the 18th century. We're the place where the idea of our country is being born; the place where the ideals we stand for as Americans are being defined. We are the 18th century "live," filled with the stories of the women, men, and children—free and enslaved—whose values and visions gave us a new world.
Step back in time and meet the people who made America—sing with them, dance with them, eat with them, and have fun with them. For every person who wants to understand this country, this is your place.
From hands-on activities to guided tours of original 18th-century buildings to our unmatched folk-art collection, there's something for everyone at Colonial Williamsburg.