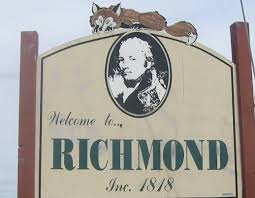 Do you believe in 2nd chances? How about 3rd?  We would like to announce that our third try at holding the 2020 Eastern Ontario Shakedown will take place from Thursday May 7 through Sunday May 10, 2022, at the Richmond Fair Ground. This is the weekend before the Victoria Day long weekend but not the weekend before the Kingston Rally (May 26 -30).
As we write this, the format of our Shakedown is uncertain. (Please direct further enquiries on this subject to the COVID Virus) In the best case, we will have our Thursday trip to the Glen Restaurant at 5:00 p.m. for early arrivals, Friday snack at 7:00 p.m.; Pot-Luck meal on Saturday at 5:00 p.m., and a Sunday breakfast, cooked and served by the hosts and volunteers at 8:30.  The hall (Heated, Dry and Bug-Free as needed) will be available to us all weekend for Happy Hours, games, deep technical discussions and general merriment. If necessary, we will scale this back to a "Simply Camping" event.
Please mark these dates on your calendars. We will provide updates on the registration process and event format as we get closer to spring. If you have any questions, please get in touch.