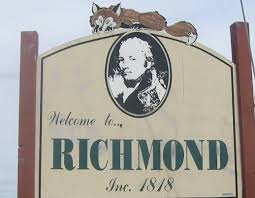 We are pleased to announce that our third 2022 Eastern Ontario Shakedown will take place from Thursday May 12 through Monday May 16, 2022, at the Richmond Fair Ground. This is the weekend before the Victoria Day long weekend but not the weekend before the Kingston Rally (May 26 -30).
As we write this, we will have our Thursday trip to the Glen Restaurant at 5:00 p.m. for early arrivals, Friday snack at 7:00 p.m.; Pot-Luck meal on Saturday at 5:00 p.m., and a Sunday breakfast, cooked and served by the hosts and volunteers at 8:30.  The hall (Heated, Dry and Bug-Free as needed) will be available to us all weekend for Happy Hours, games, deep technical discussions, and general merriment. If necessitated by public health restrictions, we will scale this back to a "Simply Camping" event.
There will also be a total eclipse of the moon on Sunday night!
The cost will be $35 per night for camping. We will share the fixed costs (food and hall rental) amongst the participants with that cost being announced on Saturday. In 2019 this was $35 per trailer. Payment will be collected at the event (cash, cheque, e-transfer). 
If you plan to attend, please email, or call Lynn & Rob with your arrival date and if you are interested in the Thursday trip to the Glenn.
If you have any questions, please get in touch. 
Lynn & Rob Douglas Janice & Roger Joynes
613-736-0560,  rdouglas@magma.ca 613-584-3452,  joynes@magma.ca