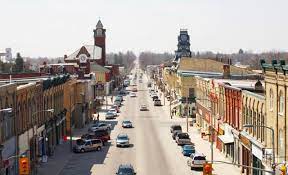 Western Ontario Shakedown May 12-15 , 2022
The Seaforth Fairgrounds have been booked by the Ontario Airstream Club for the above dates. The  Fairgrounds has 32 trailer sites with water and 30 amp hookups. A dump station is on site. The  Fairgrounds' camping fee for 2022 is $30 per night. There is a hall on site if we decide to rent it. Come and  stay 1/2/3/or 4 nights. This event will be a limited organized one.  
Weather permitting you will be able to sit out in your lawn chairs, visit with fellow Airstreamers and  explore Huron County. The towns of Clinton and Goderich are nearby. Some activities being considered  are a daily Happy Hour, an evening camp fire, a noon potluck and a local restaurant outing. Activities will  be dependent on May health protocols.  
Details about registration and payment will follow in the April Trillium. We would appreciate you  phoning or sending an email to Tony and Margaret Skells to let us know of your intent in attending. 
Hosts:  
Margaret and Tony Skells #04367 519-884-0268 mskells@golden.net 
Karen and Colin Brittan #08585