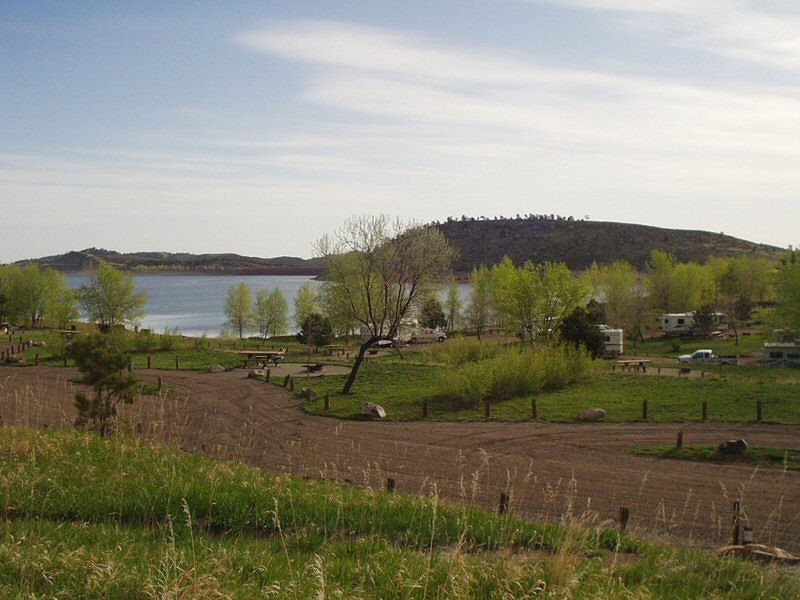 Carter Lake is located in the foothills west of Loveland at an elevation of 5,760 feet. It is a part of the Colorado-Big Thompson Project operated by the Bureau of Reclamation and the Northern Colorado Water Conservancy District. The purpose of this water project is to divert water from the west slope to the east slope for drinking water, irrigation, and hydropower generation. The Bureau of Reclamation is solely responsible for power generation. The agencies jointly manage water levels for irrigation, municipal, and industry use. Recreation is managed by Larimer County Natural Resources.
Three miles long and about one mile wide, Carter Lake is a 1,100-acre reservoir surrounded by 1,000 acres of public lands and is popular for fishing, sailing, camping, swimming, scuba diving, rock climbing, and water skiing.
It is open year round. Park Entrance Permits and Camping Fees are required.
CAMPSITE RATES
Sites have been reserved in advance, so the cost of the site is included in the registration fee of $145 for one person, $150 for two. 
Note; a valid Larimer County Parks pass is required.  If you do not already have an annual pass, multi-day passes are available at the North & South entrances; they are $10.00 per vehicle or $10.00 per boat trailer only, or $20.00 per vehicle with boat trailer.  Valid date of purchase is through noon of the following day.  Attach permit to lower inside passenger windshield.
As usual, there are no entrance fees for holders of a Larimer County Parks annual pass.
Check-in is 12:00 noon on September 7th. Check-out is by 11:00 AM on September 10th.
If you wish to book additional nights you will need to contact the campground directly to make reservations. 
CANCELLATIONS SHOULD BE MADE WITH THE HOST AND _NOT_ WITH THE CAMPGROUND.
We have reserved the entire lower loop of the South Shore Campground at Carter Lake just for us. The sites are spread out, so there is plenty of room to be physically-distant from one another. Our sites are electric only; water is available to replenish your supply. There is a dump station at the south end of the lake.
Our campers can go for a hike, rent a pontoon boat, enjoy fishing, plus dinner & dancing at a nearby restaurant.  There's much to be enjoyed at Carter Lake!
People are welcome to socialize in small groups in the manner.  Also, bring your kayaks or canoes ~ we camp right near the boat ramp. The ramp may be closed for the season, but we can launch little boats from shore.
Sitemap https://www.larimer.org/sites/default/files/uploads/2017/south_shore_campground.pdf