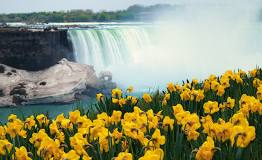 We are working hard to ensure that this will be a memorable Rally, especially with the excitement of being in Niagara Falls. 
Campsite booking is set to open on December 1, 2022. As Jellystone's (https://www.campjellystone.com) program is not available this early folks should call Greg Amadio at +1 (800) 263-2570‬ or email him (yogibear@jellystoneniagara.ca) and leave a message. Greg will call back to get registration details. People should book early as cancellation of the camping is allowed up to two weeks before the Rally. The registration for the Region 2 Spring Rally is separate from booking the campsite and will follow.  The details will become available on the Region 2 website 2023 Region 2 Rally
We have100 sites, most with full hookups and a few pull-throughs. Campsite bookings are first come first served. Our group rate is $62 per night + HST. The Rally is from June 1st to June 6th, but the 'core' will be from the Friday June 2nd to the Sunday June 4. Jellystone will allow anyone the group rate if they want to arrive earlier or leave later while they tour the area.