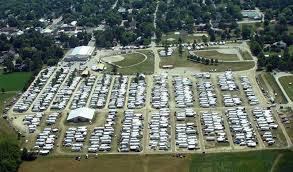 Your Host Team for the Spring Rally in Blyth is hard at it – planning a long weekend that's bound to be too short! The Blyth Campground is ideal for our needs. In fact, it was a popular spring shakedown location for several years as well as the site for the 2013 Spring Rally.

The gathering space in the Community Centre is spacious and extremely well-equipped for groups like ours. It's on the second floor. If you have "rusty knees" or "squeaky hips", have no fear - there is elevator access!

The grounds are enormous and relatively level. There is an abundance of electrical and water hook-ups. Nobody goes without and you'll have at least a 15-amp service. Showers and toilets are located close to where we'll be camping and there's a dump station on site.

We don't have the camping costs yet as the fee schedule will change at the end of the year, but we expect the nightly fee will be in the neighbourhood of $40. While we have the campground reserved from Thursday to Tuesday, the actual rally starts on Friday and ends on Monday. To be fair to everyone, the camping fees will be kept separate from the rally fee.

We're still in the early days of planning, but our program is starting to gel. We'll have more to say about that, along with points of interest in the area, in the February issue of /The/ /Trillium/."