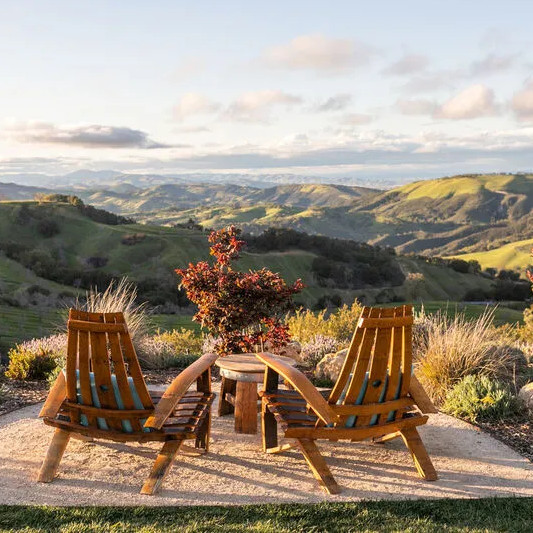 Overview:
Hosts:  Jeff and Barbara Engelmann
Co-Hosts:  Janet and Leon Hauck

Campground:  Sun Outdoors Paso Robles [ Website | Google Map ]
Address:

  3800 Golden Hill Road, Paso Robles, CA 93446

Phone Number

:  866-835-1677

Contact

:  Hannah Johnson
Amenities/Events:  With a minimum of 15 adults a private wine tasting will be held for rally attendees at a cost of $40/person on Saturday at 4:00pm. This private wine tasting cost has not been included in the rally fee and would be payable directly to the Sun Outdoor.  The cost of the room rental for the wine tasting would be included in the rally fee. The resort has a Fitness Center, Heated Swimming Pools, Heated Hot Tubs, Dog Parks, all available for use by attendees at no additional fee. There is an on site restaurant that is also available for dining. 
Fun activities nearby:  Town of Paso Robles, wine tasting, Hearst Castle (50 minute drive), CA Coast (30-45 minute drive)
4CU Rally Fee: $32.50 Per Person 
Campground Park/Site Cost: We have reserved 17 Deluxe Sites and 8 Premium Sites for this rally  The Thursday Rates for 4CU attendees for the Deluxe Sites is $88.40/Site and those same Deluxe Sites for Friday and Saturday nights at $103.70/Site.  The Thursday night rates for 4CU attendees at the 8 Premium Sites is $99.45/Site and those same Premium Sites for Friday and Saturday nights at $126.65/Site.  Not included in these fees are the resort fees and local and county taxes that will be calculated on a per site basis at the time reservations are made. 
Collection Of Fees:  Rally fee to be per jotform.  Campground fee to be paid directly to park.
-----------------------------------------------------
Agenda:
Thursday – Arrival and evening happy hour at The Valley Pavillon
Friday – Morning pastries and coffee at The Valley Pavillon. Enjoy Paso Robles and the surrounding area. Friday Evening Wine Tasting for anyone staying at the resort (note not exclusive to 4CU), organized by Sun Outdoors Paso Robles. The fee to attend this wine tasting is $50 per person this fee to be paid to the resort by each attendee this cost not included in the rally fee. Space is limited so reservations are required. 
Saturday - Morning breakfast burritos and coffee at The Valley Pavillon - Enjoy Paso Robles and surrounding area.  Private Wine Tasting for 4CU members only, organized by Sun Outdoors Paso Robles. $40 per person, this fee to be paid to the resort by each attendee this cost not included in the rally fee.  Bring Your Own dinner (gas grill available) for a 4CU group gathering at The Valley Pavillon near our rig's. The time of the gathering to be determined on site.
Sunday – Safe Travels home, or to your next destination.  
-----------------------------------------------------
Comments/Questions?

 
We have reserved 25 sites (17 Deluxe and 8 Premium) for this 4CU Rally. Rally guests can arrive prior to the start of the Rally or extend their stay, and would pay the full per night rate (plus resort fees and city and county taxes) based on the individual site selection and the seasonal rates that are in effect at the resort. We realize that this will be an expensive rally, due to the cost per night for each site, and at least a two day drive from most 4CU members. We also realize that is maybe the only time the 4CU does a rally in California, but why not try it? It's a beautiful area and going in January is their "off season".  Temps can drop to the upper 30's at night. We are investigating an e-bike tour of the area that leaves from the RV Resort. The cost for this rental and tour would be paid directly to the organization in charge of the e-bike rentals once interest from attendees is determined and we select an e-bike provider.
Reservations need to be made directly to Ms. Hannah Johnson either by calling her directly at Phone 805-755-2089 or via email at HJohnson@ih.sunoutdoors.com identifying themselves as part of the 4CU Airstream Rally for January 2024.