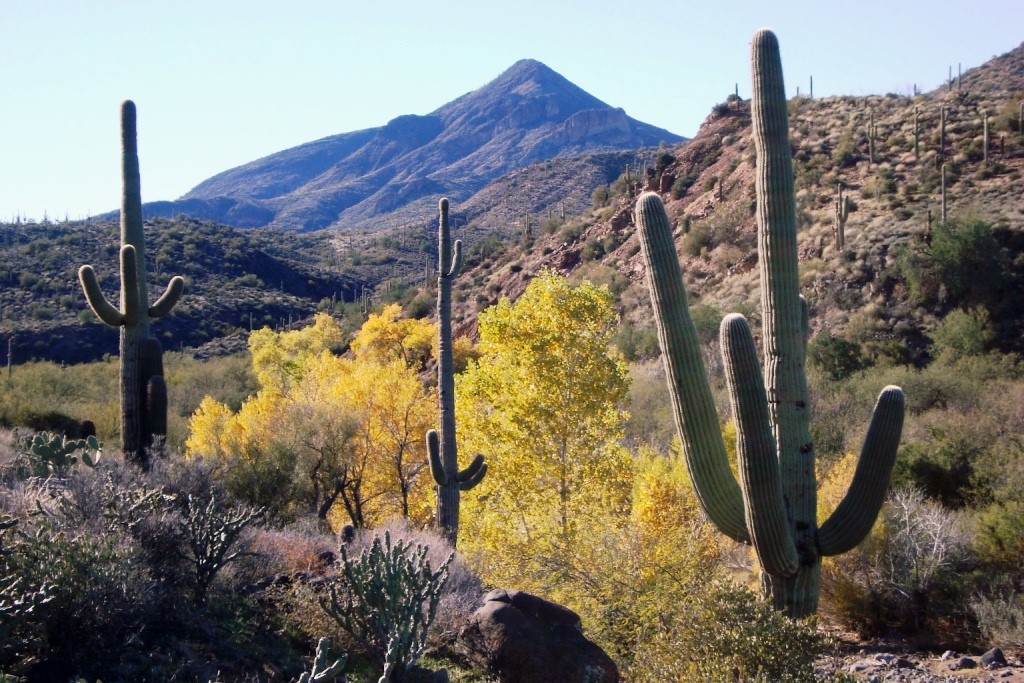 If you are a Registered Attendee and need to cancel your Registration, contact the Arizona Airstream Club Treasurer (003treasurer@airstreamclub.net)
Pre-Payment of the Registration Fee (campsite reservation) is required with Registration; the three-night total is: ($107.45) (includes processing fees and non-refundable reservation fee).
In light of the current situation (Covid-19 Pandemic), we are "cautiously optimistic" that time and circumstance will allow this rally to be held. Of course, we will adapt to the reality of the situation as the date of the rally approaches.
Arizona Airstream Club has advance reservations for twenty-three (23) Cave Creek Regional Park campsites.
A wait-list will be established in the event all campsites are Early-Reserved.
Preliminary Summary (Rally Details and Schedule TBD)
Cave Creek January 21st thru 24th 2021, "Cave Creek Regional Park Rally"
Hike the lovely mountains just outside your campsite. Cave Creek Regional Park offers over 11-miles of trails for hiking, mountain biking and horseback riding. Park trails range in length from 0.2 miles to 5.8 miles and range in difficulty from easy to difficult. The trails within the Cave Creek Regional Park are very popular, with dramatic elevations and spectacular views of the surrounding plains.
---
The risk of COVID-19 spreading at events and gatherings increases as follows:
Lowest risk: Virtual-only activities, events, and gatherings.
More risk: Smaller outdoor and in-person gatherings in which individuals from different households remain spaced at least 6 feet apart, wear masks, do not share objects, and come from the same local area (e.g., community, town, city, or county).
Higher risk: Medium-sized in-person gatherings that are adapted to allow individuals to remain spaced at least 6 feet apart and with attendees coming from outside the local area.
Highest risk: Large in-person gatherings where it is difficult for individuals to remain spaced at least 6 feet apart and attendees travel from outside the local area.
---
Update (Tentative)
Our Cave Creek Rally provides numerous recreational opportunities. We need to wear masks and maintain social distance, but we have numerous activities that we believe are safe. Our reservations inside the park afford space for small gatherings of 10 or less.
Thursday, we have a 4 pm socially distanced COVID-safe "Mediterranean Majik" meal at the Rhyolite Way Ramadas. Each Ramada has 6, 9-foot tables each, generously spaced apart from each other. A large (pickleball-sized) concrete area divides two identical Ramadas with a group fire pit below. These are perfect for 3, 4 or 5 socially distanced groups of 10 or less. https://medmajikfoodtruck.com/
Every night, Sunset is at 5:50 PM. The Fire Pit will be lit at 6:00 PM (We will recruit a "Pit Boss" for each evening). The fire pit is large, but we are limited to 10 campers around it at any given time. We promised the park we will split up into groups of less than 10.
As a bonus, we partnered with El Encanto Uno to provide a relatively safe dining opportunity. Small groups will be allowed to have a tasty meal served in an outdoor patio after hiking, biking, or touring the area. The restaurant is El Encanto Uno; the scenic one in downtown Cave Creek.
We reserved outdoor tables having radiant heat by the duck pond at convenient early evening times of 4 PM and 4:30 PM on Friday and Saturday. You will need to claim a table for your crew and specify your intended number of guests. Each table is carefully spaced from others and seats two or four diners.
We are camping in an area that has group facilities. The county is graciously allowing us to use these facilities based on our past history together at their other regional parks.
Each camper needs to recognize that the following Maricopa County Rules will be monitored and enforced under the threat of ejection; social distancing of six feet is required, a mask is required when distancing is not possible, all gatherings are limited to less than 10 campers, a mask is required when near or inside the nature center.
In addition to county rules and ordinances we ask that you abide by rules posted by our hosts when ordering from the Mediterranean Majik food vendor on Thursday between 4:00 PM and 7:00 PM.
---
Besides beautiful hikes and horseback rides.
Our Cave Creek Regional Park campsites feature electric and water hook-ups.
---