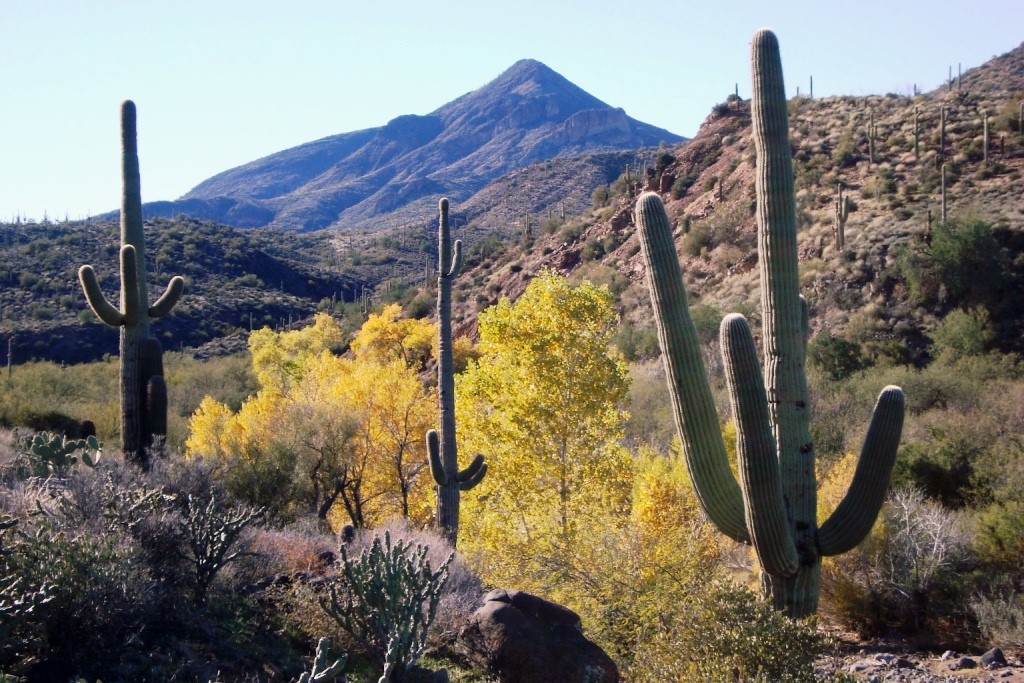 Early Registration is OPEN
Early Registration: You may reserve your campsite for this rally through Early Registration and Payment NOW.
Pre-Payment of the Registration Fee (campsite reservation) is required with Early-Registration; the three-night total is: ($107.45) (includes processing fees and non-refundable reservation fee).
In light of the current situation (Covid-19 Pandemic), we are "cautiously optimistic" that time and circumstance will allow this rally to be held. Of course, we will adapt to the reality of the situation as the date of the rally approaches.
Arizona Airstream Club has advance reservations for twenty-three (23) Cave Creek Regional Park campsites.
A couple of months prior to the rally, after the Rally Schedule and additional Rally Fees and Optional Event/Excursion Fees are finalized, additional confirmation of your attendance will be required via Rally Fee Payment Form. In the event that you do not reconfirm, your site reservation will be cancelled and placed on the list of Open Sites at that time for anyone to Register for.
A wait-list will be established in the event all campsites are Early-Reserved.
Finally, if there remain any unreserved campsites two to three months prior to the rally, complete Registration/Payment of rally campsite fees and rally event fees/rally fees, etc. would be opened to all WBCCI members for those remaining sites, just as in a normal rally schedule to fill any non-reserved sites.
We know that we are asking for your commitment to a rally that is significantly down the road and due to circumstances, might present multiple challenges. The Club will continue to plan for the future, fully acknowledging that we are clearly planning for events in an unprecedented and unknowing future. As always, we are appreciative and grateful for your support.
LOCATION INFORMATION:
Cave Creek Regional Park, Cave Creek AZ
WHEN:
January 21 – 24, 2021
Preliminary Summary (Rally Details and Schedule TBD)
Cave Creek January 21st thru 24th 2021, "Cave Creek Regional Park Rally"
Hike the lovely mountains just outside your campsite. Cave Creek Regional Park offers over 11-miles of trails for hiking, mountain biking and horseback riding. Park trails range in length from 0.2 miles to 5.8 miles and range in difficulty from easy to difficult. The trails within the Cave Creek Regional Park are very popular, with dramatic elevations and spectacular views of the surrounding plains.
Visit with hawks, owls, eagles, falcons and vultures of the raptor center rescue "Wild at Heart" during our private group tour.
Enjoy steak, fried chicken or grilled mushrooms cowboy-style at Harold's Coral. (If COVID hasn't abated by late January, it would be likely that Harold's Coral dinner would be changed to a food truck;  perhaps "Mediterranean Majik".)
Our Friday, January 22nd AZ Music Fest Concert will be Grammy Award-winning vocalist Steve Tyrell at Highlands Church. Steve has reinvented and re-popularized classic pop standards for a modern audience. His breakthrough performances in Father of the Bride and Father of the Bride II, coupled with his popular interpretations of The Way You Look Tonight, The Simple Life, I've Got a Crush on You, and On the Sunny Side of the Street, have made Tyrell well-known for his signature flair, rich voice and unique musical phrasings. "Tyrell is one of the main contemporary purveyors of standards on the pop landscape."  – Los Angeles Times
Besides beautiful hikes and horseback rides, Cave Creek is famous for shopping, bars and restaurants.
Our Cave Creek Regional Park campsites feature electric and water hook-ups.