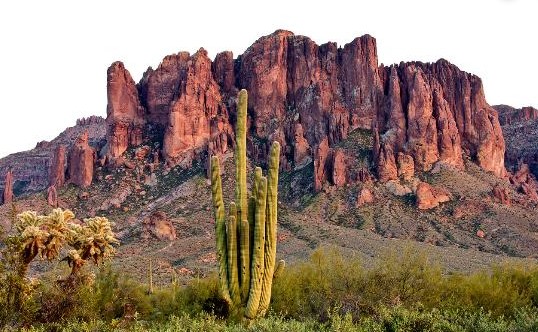 REGISTRATION WILL BEGIN SOON!
Apache Junction February 4th thru 7th 2021, "Lost Dutchman Cordless Rally"
Lost Dutchman State Park is a 320-acre state park located near the Superstition Mountains in central Arizona named after the Lost Dutchman's Gold Mine, a famous gold mine legendary among the tales of the Old West.
Relax in the Quail Group Dry Camp where you can mountain bike, hike, view the wildlife, ride the Dolly Steamboat or catch a musical dinner show at Barleen's.
The sun setting on the Superstition Mountains is mystical.
We will be at the Quail Group Site. Our group campsites are dry with water and dump stations available in the Main Campground. Bring your generators or solar panels. Preliminary estimated campsite cost is $109.50. (Three-night total; $36.50/night)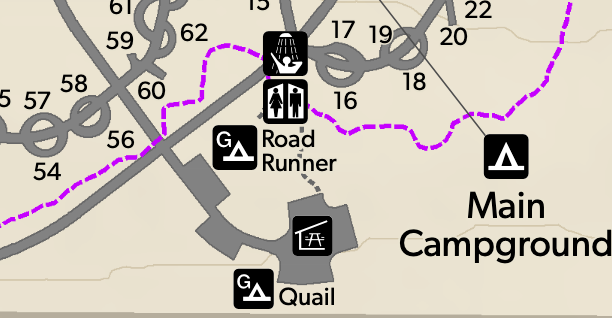 A Message From Jim Moser & Shelley Randall (Hosts):
We will be dry camping at a beautiful spot in Lost Dutchman State Park. Electricity will be from your generators, and water from your tank.
In order to prevent the spread of the corona virus, there will be no group meals planned for this rally. All meals are on your own.
We have reserved tables at the Barleen's Dinner and Show for Saturday night. Tickets are available to purchase during the Registration process.
Also, you may choose to take one or more cruises on the nearby lakes. We recommend Dolly Steamboat on Canyon Lake, or Desert Belle on Saguaro Lake, a bit further away.
There are nice hiking trails around Lost Dutchman State Park, however, trails into the Tonto National Forest are closed.
Shelley and I look forward to seeing you in February.
---
Dolly Steamboat
16802 AZ Hwy 88
Apache Junction, AZ 85119
(From the park, 10 miles east on AZ Hwy 88, near Tortilla Flat.) (480) 827-9144
www.dollysteamboat.com
We recommend the Scenic Nature Cruise to see wildlife along the way. Tickets for seniors 60+ cost $23, and for adults 13 - 59 the cost is $25. There are cruises at 12 pm (noon), and 2 pm, and there may be additional cruises in February.
I learned by telephone that Dolly Steamboat is following CDC procedures and that masks are required.
---
Desert Belle on Saguaro Lake
14011 N Bush Hwy
Mesa, AZ 85215
(24 miles, through Apache Junction and Mesa) (480) 984-2425
www.desertbelle.com
We recommend the Narration Cruise. You will hear descriptions of the history, geology, geography, and wildlife. Tickets for adults are $24. Narration Cruises leave the dock at 12 pm (noon) and 2 pm, and there may be additional cruises in February.
Desert Belle has placed the following notice on their website regarding Covid-19.
IMPORTANT UPDATE
Face coverings are now required for ALL PASSENGERS aboard the Desert Belle. Passengers who sit on the open-air upper deck MAY REMOVE their face coverings once they are seated. Face coverings MUST BE WORN when visiting the indoor snack bar, restrooms, or utilizing indoor seating. Chairs and tables aboard the Desert Belle are situated in accordance with CDC social distancing guidelines and may not be moved or rearranged.
---
Barleen's Dinner Theater Show  (See Covid-19 Safety Measures ) We have reservations for Saturday evening, February 6, 2021. There are 24 seats available and those will be included as a prepaid option during Online Registration for the Rally. The cost will be $45.00/person (includes processing fees). The doors open at 5:15pm. The meal is served at 6:00pm, and the Show starts at 7:00pm; ends at 8:45pm. (Due to a deadline imposed by Barleens, if you make a reservation for the Barleen Dinner Theater and subsequently cancel your attendance after January 21, 2021 you will forfeit the total cost paid.)