Access to the Registered Attendee Lists for all Events is now only accessible to WBCCI Members through Log-In via the Membership Portal.
Patagonia, November 2nd thru 5th, "Patagonia Lake State Park Rally"
Arizona Airstream Club has prepaid and holds the reserved sites for this event. Attendees will be assigned sites approximately one week prior to the event.
---
Patagonia Lake State Park Rally - 2023
REGISTRATION IS OPEN - JUNE 6, 2023
---
Campsite Cost - $100.00 (three nights, includes processing fees)
Rally Fee $72.60 per Adult; $42.00 per "Under 18" (The Adult Rally Fee includes the catered dinner on Friday evening with live music, and the "Big Hot Breakfast" on Saturday) (Any "Under 18" attendees will be required to pay for the catered dinner).
---
Tucked away in the rolling hills of southeastern Arizona is a hidden treasure. Patagonia Lake State Park was established in 1975 as a state park and is an ideal place to find whitetail deer roaming the hills and great blue herons walking the shoreline. The park offers a campground, beach, picnic area with ramadas, tables and grills, a creek trail, boat ramps, and a marina.
40 miles north of the State Park is Patagonia, a defunct mining town that is surrounded by opportunities for hiking and wildlife viewing. It has restaurants and a selection of shops featuring uniquely crafted works of art and antiques. The Nature Conservancy has a riparian area that meanders through the Cottonwood lined Sonoita Creek south of town.
Sonoita Creek State Natural Area is also nearby with 20 miles of hiking trails. A 1.5-mile hike of moderate difficulty called the "Overlook Trail" close to our campground is a great way to see 360 degrees of spectacular scenery.
 • IMPORTANT: NO dogs are allowed at the beach day use area. Please use west day use area for beach access with dogs.
---
Our Patagonia Lake State Park campsites feature electric and water hook-ups.
Registration for campsites at Patagonia Lake Rally will be $100.00 for three-nights. (Includes processing fees).

Sites reserved - 29 available (Host site is 35-36 combined): 1,2,6,7,8,9(ADA),10,11,12,13,14,15,18,19,20,21,22,23,25,26,27,28,29,30,31,33,34,(35-36),37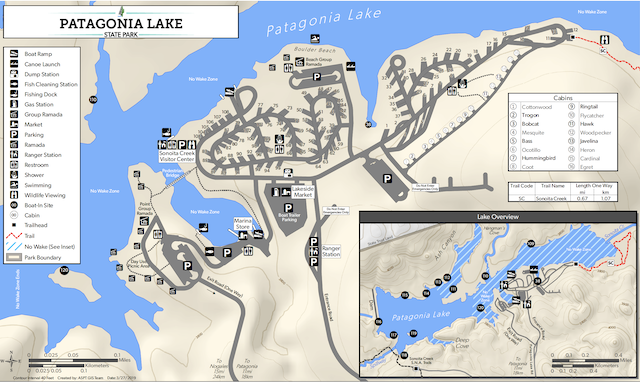 ---
Patagonia Lake Rally Schedule
---
Thursday November 2 – Welcome Streamers 
4 pm – Gather at host site, # 35/36. Happy Hour: Bring chairs, your favorite beverage of choice and an appetizer to share. We'll honor veterans a week early with a fun game of "guess who this veteran is". 
5 pm – There will be a ranger presentation at host site. You're welcome to hang out here after presentation; no official group dinner planned for tonight. 
---
Friday November 3 
8 am – Ranger guided bird watching tour.  Meet at kiosk at bird trailhead.  SIGN UPS ARE REQUIRED BY THE RANGERS FOR THE BIRD WALK.  No fee but donations are accepted.  Laura will be our guide.  Don't forget your binoculars and a camera.
 
Lots of things to see and do today in the surrounding area (but be sure to be back by 4:45 at the latest for steak dinner).
• Ranger guided discover the lake on pontoon boats.  Rides begin at 11:00, 8-9 people per ride.  Next boat leaves at noon, a 3rd and last boat leaves at 1:00.   Let Debbie know if you're interested; sign-up sheet will be at host site #35.

• Visit the Sonoita Creek visitors center/gift shop in the park.  You can sit and watch birds on their deck outside.
• Weather permitting, rent a boat at the marina in the campground and fish or tour the lake.  Boats available for rent are kayak, paddle boat & speedboat.
• Walk trails around and over the lake on the impressive footbridge.
• Great shopping in Tubac – famed galleries & shops (32 miles).
• North of park is Titan Missile Museum in Green Valley: https://titanmissilemuseum.org
• Empire Ranch is off 83 just north of Sonoita. It's historic and a working ranch; the ranch house is now a museum. The Vera Earl Ranch runs operations on most of the old ranches now.

• Visit ghost towns in the area: https://www.legendsofamerica.com/az-patagoniaghosts/
• Bring your passport and visit Nogales; don't get stuck there! 

5 pm – Catered Good Ole Western Steak Fry (with live music). Meet at site #36, next to host site.
I've made plans to have The Grassland Band; they play a mixture of western swing, bluegrass, traditional country and some old cowboy songs.
Menu will consist of the following:
Steak, Salmon, or Portobello Mushroom; -  baked potato, corn bread and garden salad.
Cost per person is included in the Rally Fee. (I'll recommend members bring their own place setting from home to cut steak, etc.).
7:00 pm – 9:00 pm – Live Music (Jim Coweek and Rana Murphy) 
---
Saturday November 4th
8:30 am – Host provided "Big Hot Breakfast" Meet at side #36. Bring your own plates, silverware, and coffee or tea.  Juice will be provided.
You're on your own for the day.  There will be an OPTIONAL Ranger guided discover the lake pontoon boat tour at 11:00, noon and 1:00 if needed.  Fee is $7 per person with 8-9 people per ride.  Let Debbie know if you're interested in going. Sign-up sheets available at host site.
11 am – OPTIONAL Winery Tour by Arizona Winery Tours.
Cost is $139 per person.  Price includes roundtrip transportation with visits to 3 vineyards, souvenir stemless etched tasting glasses, lunch and snacks/water throughout day.  You're picked up at approximately 11 am at the park in a Mercedes-Benz Sprinter Van (14 seats per van).  If you wish to join us and NOT imbibe, the cost is $94. You will be returned to park at approximately 4:30.  

Note: Let Debbie know as soon as you have made your own Winery Tour reservation. She will then confirm your choice for your lunch. (Link will be provided for individuals to make and pay for their own tour reservation.) (Cancellation policy is set by tour operator)
DO NOT USE THE WINERY TOUR WEBSITE RESERVATION SYSTEM - USE THE FOLLOWING LINKS TO MAKE YOUR RESERVATION TO ENSURE PLACEMENT WITH OUR GROUP!
Direct Reservation Link For Your Optional Wine Tasting Tour - Reserve Here for $139.00
Direct Reservation Link For Your Optional Non-Tasting Tour - Reserve Here for $94.00
You're on your own for dinner tonight.
---
Sunday November 5th
Say our goodbyes and safe travels home today.
---
Event Contact:
Larry and Debbie Johnson (Host)
dcj9762@yahoo.com
(425) 999-2328

ljohns1139@gmail.com
(206) 406-2894
---
Cancellations: (AAC Cancellation Policy)

Simple Concept: If your cancellation results in a cost to the club, you will absorb the cost. The club does not plan the rallies and rally fees to make money, nor should the club be expected to lose money.

There is a strict AAC "Rally Fee" cancellation policy. (Cancellation within 30 days of the Rally will result in forfeiture of the "Rally Fee".)

If you decide to cancel your Attendance please cancel by notifying Arizona Airstream Club of your cancellation. Do not attempt to cancel with Patagonia Lake State Park. Arizona Airstream Club has prepaid and holds the reserved sites for this event. Attendees willl be assigned sites approximately one week prior to the event.
For this Event, if you need to cancel your attendance do so directly with AAC via the Event Registration Cancellation Form. (Cancellation Form).
---