Access to the Registered Attendee Lists for all Events is now only accessible to WBCCI Members through Log-In via the Membership Portal.
---
Prescott, May 4 - 8, 2023 "Kentucky Derby Rally"
LOCATION:
Point of Rocks RV Campground
WHEN:
May 4-8, 2023
Registration Deadline - September 7, 2022
The Rally Fee for this Event is $22.00 per adult.
Our Prescott Point of Rocks campsites are full hook-up sites (30 or 50 amp Electric, water/sewer, Back-In, Spacious or Scenic campsite with Picnic table): ($255.44) (Four-Night Rally)
---
Arizona Point of Rocks Rally Registration:
Arizona Airstream Club has 25 sites available to reserve for this rally.
Registration, to include campsite fee and Rally Fees is being handled through Arizona Airstream Club Registration.
During Arizona Airstream Club Registration, reserve a site for $57.00 per night plus taxes and fees.
---
RATE:
| Header 1 | Header 2 | Header 3 |
| --- | --- | --- |
| Base Rate: | Four nights @ $57.00 | $228.00 |
| Reservation Fee: | $5.00 | $5.00 |
| Tax:   | $14.74 | $14.74 |
| Processing Fees: |   | $7.70 |
| Back In Site: |   | $255.44 |
 [Reserve and Pay - Arizona Airstream Club]
---
YOU WILL MAKE PAYMENT FOR THIS REGISTRATION THRU ARIZONA AIRSTREAM CLUB.
---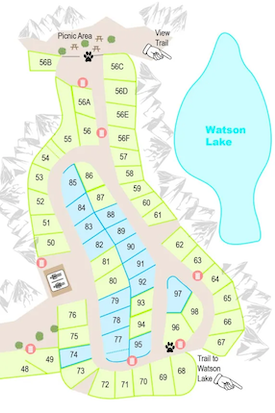 Prescott truly offers something for everyone. Downtown, historic Whiskey Row is known for its bars and live music venues.
The Sharlot Hall Museum documents the region's pioneer-era history. The Smoki Museum exhibits artifacts from indigenous peoples of the Southwest.
To the northeast, Watson Lake is home to hundreds of bird species, and a circuit of trails runs among the granite boulders dotting its shore.
Kayakers enjoy Point of Rocks due to lake proximity, it's a short hike.
---
At the Rally:
Bill and Debbie Nixon are hosting this "Kentucky Derby Weekend" Rally.
DETAILS OF EVENT NEEDED TO POST HERE - AWAITING FROM HOST
---
Important Notes:
Our agreement with the campground requires you to cancel 4 days prior to your arrival date to receive a full refund of the campsite fee minus the transaction and processing fees. Cancellations made 3 days or less before arrival will forfeit a cancellation fee equal to a one-night stay plus your transaction fee plus processing fees.
Any cancellations within 30 days of the Rally start date will forfeit pre-paid rally fees.
CANCELLATION: (AAC Cancellation Policy)
Simple Concept: If your cancellation results in a cost to the club, you will absorb the cost. The club does not plan the rallies and rally fees to make money, nor should the club be expected to lose money.
If you decide to cancel your Attendance please cancel by notifying Arizona Airstream Club of your cancellation. Do not attempt to cancel an AAC reserved site with Point of Rocks RV Campground. Arizona Airstream Club has prepaid and holds the reserved sites for this event. 
For this Event, if you need to cancel your attendance do so directly with Jerry Nelson (AAC Treasurer) (contact form).
---