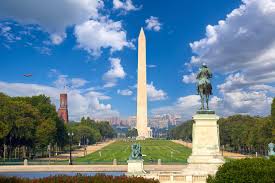 The C2C Caravan is an initiative of ACI Region 2. It will launch on Friday evening, September 15 and wind up 2 weeks later on Friday morning, September 29. Region 2 is unique in that its area includes the capital cities of both the USA and Canada. Our days will be equally split between the USA and Canada.
This caravan will start with 3 days and 4 nights at the closest campground to the DC area, with ready access to rapid transit downtown. We will stroll the Mall at our leisure, visit as many of the wonderful Smithsonian Museums as possible and take in the sights of this beautiful capital city. One evening will be devoted to a guided tour of the most famous monuments, departing right from our campground.
We will then head north with several stops along the way to see some local highlights. Examples will include a museum devoted to country music, an afternoon cruise in the beautiful Thousand Islands and other activities still under development. Most driving days will be moderate in length with lots of scenery to plant in your memory banks! The caravan will end at a campground inside the city limits of Ottawa, adjacent to hiking and cycling trails and close to rapid transit. We will tour the city on an open top bus, take a boat ride on the historic Rideau Canal (a UNESCO World Heritage Site) and visit a few of the museums and galleries in the city. Typically, by this time of year the Ottawa Valley will be resplendent in Fall Colours and we will direct everyone to some of the most spectacular drives. Evening campfires will give us time to relax and share our experiences. Our wind up dinner will be at a very popular buffet restaurant close by the campground.
As Caravan Leader, I like to run caravans that are rather laid back in style where everyone gets to know everyone else and people have opportunities to pursue some of their own interests. Biking, hiking, ziplining, enjoying a cold brew on a patio, whatever floats your boat! We will do our best to accommodate every interest. The estimated Kitty Fee is $1700 US or $2400 Cdn for an Airstream with 2 people. Deposit will be $500 US or Cdn (lets keep it simple). If this sounds like a fun way to spend some time with fellow Airstreamers, contact me right away. Participation will be capped at 20 rigs. Email me at 124caravan@airstreamclub.net and I will send you a registration form with details on how to make your payment.