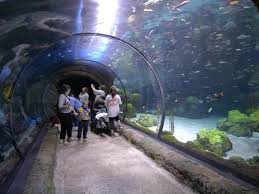 Join us for an exciting luncheon at the Denver Aquarium!  The minute you step in, you will be surrounded by a 50,000 gallon centerpiece aquarium. We'll enjoy floor-to-ceiling views of over 100 species of colorful, tropical fish while we have lunch. As we enjoy our dessert, we'll have Mark Hembree from Master Tech RV doing a short presentation on "Airstream Safety Enhancements."

After lunch and the program, each paid attendee will be able to walk through and enjoy the aquarium, courtesy of Master Tech RV and Appliance Repair, LLC.  They are sponsoring the cost for each attendee to walk through the aquarium exhibit.

This will be a great afternoon! Please plan to join us for this exciting event!  

Doors will open at 11:30 am, and lunch will be served at 12:00 noon.
Lunch menu – choice of:
Bacon Cheeseburger with fries
Grill Chicken Sandwich with fries
Chicken Tortilla Wrap with fries
Greek Salad (Vegetarian Option)
Dessert – Choc Cake
Nonalcoholic drinks included
Price = $29.00 per person (this includes both lunch and entry to the Aquarium)