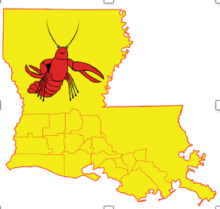 N-2023-A1
Cajun Country Caravan
On the Cajun Caravan you will experience Cajun culture and hospitality at its roots. Enjoy dining on jambalaya, crawfish pie, gumbo and all the other dishes that make Cajun cuisine popular. Travel through the Cypress swamps, rice fields and crawfish farms of south Louisiana. These plus many other adventures will help you understand the meaning of the Cajun phrase, "lasez le bon temps roulet", let the good times roll. Take a boat ride through a cypress swamp to watch alligators and bald eagles in their natural habitat. Tour the oldest operating rice mill in the United States. Visit Aver Island, home of Tabasco Sauce and a beautiful Jungle Gardens Park. Ride with a Crawfish farmer on his unique harvesting boat while he brings in his daily catch. Ride a bus to Baton Rouge for a tour of the Governors Mansion and the tallest state capital building in the United States. Visit Evangeline Oak on the Bayou Teche, where Longfellow's poem, Evangeline waited for her Gabriel. Beaucoup fun, food and adventure, packed into 16 days of excitement awaits you on the Cajun Country Caravan. 
Start Date : March 7, 2023
Start Location: Cajun Heritage RV Park,
2026 Atchafalaya River Hwy, Breaux Bridge, LA
Stop Date: March 22, 2023
Stop Location: Carencro, LA
Total Number of Nights:  16
Number of Stops: 4
Leaders: Joyce & Lee Cantrell #4241
Lee Cell Phone: 785-564-0190
Joyce Cell Phone: 785-564-0549
Email: joyceandleec@gmail.com
Co-leaders:  Glenda & Tracey Ridgeway
Glenda Cell Phone: 785-256-3134
Tracey Cell Phone: 785-478-9665
Email: glendaridgeway@gmail.com
MaximumRV/Units with Leader & Co-leader: 25
Kitty Fee w/2: $2,100 (To be confirmed)
Kitty Fee w/1: $1,600 (To be confirmed)
Guest: $700 (To be confirmed)
Deposit Amount: $500.00
Dates of Payments:
Deposit by June 1, 2022
Final by November 1, 2022
Cancellation Fee: $100 plus non-recovered expenses
Leaders Discretion After 11/1/2022
NOTE: All finances are transparent, will be reviewed by someone on the caravan, and unspent funds are returned to participants.