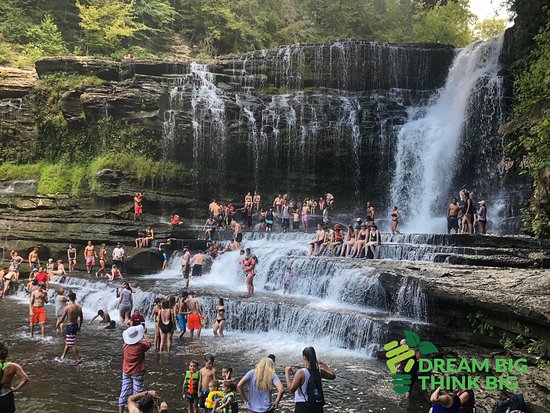 Fall Creek Falls State Park is Tennessee's largest and most visited state park. The park encompasses more than 29,800 acres sprawled across the eastern top of the rugged Cumberland Plateau. Laced with cascades, gorges, waterfalls, streams and lush stands of virgin hardwood timber, the park beckons those who enjoy nature at her finest. Fall Creek Falls, at 256 feet, is one of the highest waterfalls in the eastern United States. Other waterfalls within the park include Piney Falls, Cane Creek Falls, and Cane Creek Cascades.
The park is home to a variety of activities suitable for Airstreamers of all ages and abilities. There will be a private ranger presentation for the Airstreamers. Hikers can opt for short or long walks around the lake and to the base of Fall Creek Falls (I hear the Woodland trail is not to be missed).  The day-use trails are designed to accommodate recreational and educational activities. There are also two long-distance overnight trails for adventure-seeking Airstreamers.  Over 56 miles of trails that can be explored. There are riding stables, a pool, a ropes course challenge, a golf course, fishing, boat rentals and a restaurant at the Lodge. 
**RALLY FEES, taxes and reservation fees are INCLUDED in the the price of the campsite!
Follow link to secure your site.