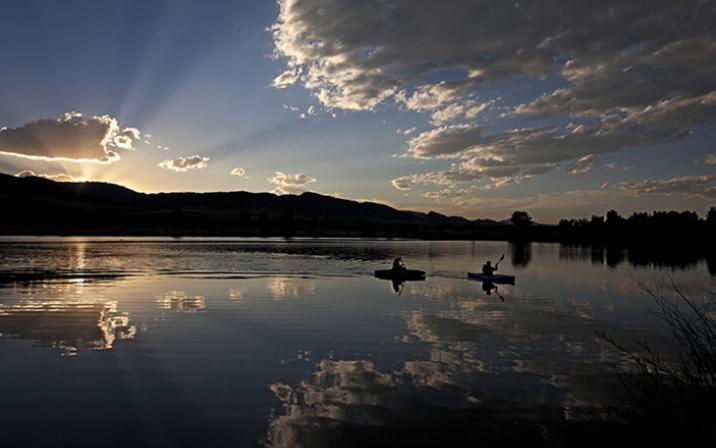 Chatfield State Park is just under 4000 acres in size, has over 26 miles of paved/gravel trails, is ideal for all types of interests and is located in the southwest corner of Metro Denver! Recreational opportunities for fishing, hiking, kayaking, paddle boarding, boating, bike riding, birdwatching, and horseback riding abound. There is even an area dedicated to remote control flying airplanes. Dogs are welcome.  For those who wish to simply shop in the big city, Chatfield is very close to IKEA, Park Meadows Mall. The area in general is a shopping Mecca. Anything you need can be found right here. For birdwatchers, also check out the Denver Audubon Nature Center at the south end of the park: www.denveraudubon.org


Group activities will include a chili & homemade cornbread dinner followed by music trivia on Thursday night after settling in. There will be a group bike ride in the park on Friday followed by a FRY DADDY FRIDAY happy hour. Bring a drink of your choice and enjoy whatever interesting goodies your hosts will have brought to fry up for you! On Saturday morning, we will have a fall harvest Sausage & Pancake breakfast. Think of apples and pumpkin toppings, nuts, and maple syrup. Did someone say YUM?? For some, Fall means Octoberfest so at some point we will plan a nice bike ride on trails over to a local brewery. Saturday evening, we will have fire pits, visiting, and glow corn hole.

Colorado Airstream Club has all 40 group camping sites reserved for this event!  We have ten group "pods" with 4 rig sites per pod. Each trailer will have a choice of electric (110, 30amp or 50amp) and there is one shared water hydrant in each pod (for 4 rigs). If you need water while at the site please bring a "Y" so that we can split multiple hoses off the hydrant. There are no sewer hook ups at the camp sites but there is a main dump station in the park. The group camping area does have a nice bathroom with showers for us to use, and it is centrally located to the ten group pods.  Tents that fit on your site are welcome.

Rally fee will be $195 (for 1 person per rig) or $225.00 (2 persons per rig) for the three nights camping, including group activities, and food mentioned above. If you have more than two persons per rig, the rally fee will be an additional $30.00 per person. For kid campers under ten, there's no additional fee. There is also a $30.00 per adult fee for tent campers as well since it covers meals.
This is our only buddy rally of the year. If you have a friend who wants to come as your buddy, here's the process. 

You will need to register yourself then click on the link again to register your buddy on a separate JotForm.  In the 'notes to host' section of YOUR registration, write in the name of your buddy.  Then go in and register your buddy with THEIR information in a second JotForm.  Indicate in THEIR 'notes to host' section that they "belong" to you. This will ensure we do our best to place your rigs as close together as possible.  You may have more than one buddy rig – that's okay. Just register the additional rig(s) the same way.


We are planning a great time at Chatfield to close out our 2022 CAC camping season! We hope you'll join us! If you have any questions, please contact your hosts………………………