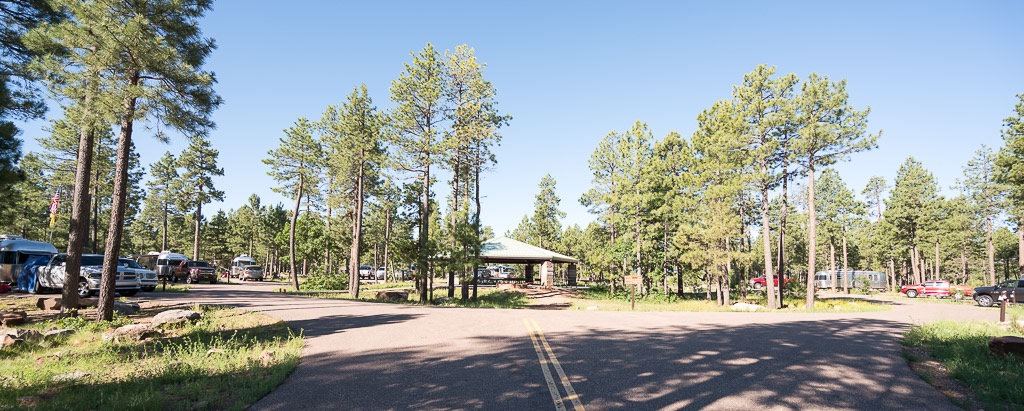 Come beat the July heat and join us in the cool ponderosa pines atop the Mogollon Rim at an elevation of 7,500 feet near Payson AZ. The Crook Campground is just down the road from Woods Canyon Lake in north central Arizona. Activities include wildlife viewing, trout fishing, boating, cycling, and photography. Hiking along the Rim Trail leads to spectacular views of the Mogollon Rim and surrounding area and is just a quarter mile from the campground. Another option is to simply relax in the campground. The choice is yours!
This is a 'Just Camping' Rally with restrictions. With the current rules to keep people safe, we have been asked to keep our count at or around 25 people and we must adhere to social distancing, no large gatherings, and pack trash out. There cannot be any extra guests outside of a trailer either in tents or their vehicles. We will not have access to the vault toilets or use the ramada for large gatherings.
The hosts have one loop reserved, Loop A, that can accommodate 13 (includes 2 hosts) rigs. This is a dry campground with potable water available in the campground and a dump station nearby. Generators are allowed. There will be 11 sites available that can accommodate only 1 or 2 people with one trailer and one vehicle per site.
There is NO rally fee. The campground fee of $20 per night (the fee for three nights would be $60) must be paid directly to the Crook Campground Host by EACH individual trailer at your time of arrival. Payment must be by check or cash; no credit cards! Arrival time is Thursday, July 30 at 3:00 pm. Departure time is Sunday, August 2 at 1:00 pm.
This is a WBAC Rally. If you own an Airstream but are not a member of the WBAC, and you would like to attend this rally, please contact the rally hosts about attending as a guest on a space-available basis.