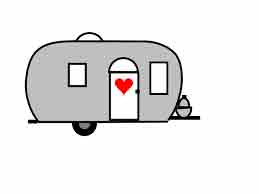 Looking for the perfect place to unwind and get cozy with our "beloved" desert?
McDowell Mountain Regional Park is a true getaway with hiking, biking or just sitting back and hanging up lanterns at dusk to cook your bbq dinner. The park has beautiful mountain views and dreamy night skies. Another dry camping/boondocking opportunity! Well. this is the rally we've all been waiting for.
Normally, the park ranger offers guided hikes so let's hope for a morning bird walk or an evening of star gazing. There's a nice Nature Center to explore, and depending on the trail you choose, you can see the famous fountain in Fountain Hills' center. Odds are, you will see lots of hawks, and if you're lucky, javalinas, coyotes and even deer! McDowell is a favorite of ours as well as many other 4CU members, offering great accessibility to Scottsdale, Mesa and the Phoenix area.
The Four Peak Staging Area is a large group campground which does not have services, but a close walk in the same area takes you to bathrooms and showers. The dump is located in a different area of the park. We advise to arrive with water and a clean tank, or you can fill up and dump elsewhere in the park and then come to our group area. Generators are ok.
So remember: this is a relaxing rally. Time to do what you like, maybe read a book, play some cards or even work on a project. Pack those half finished crosswords and letters you started but never finished. Cell phone service and TV reception are good, but hopefully you are coming to hang and chill. The choice is yours.
Fall in love with the desert again.