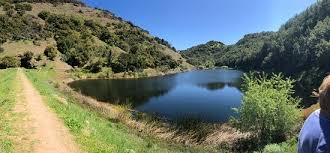 NEW: Things to do / Activities Schedule (CLICK)
Another "Just Camping" Event!
Skyline Park is an 850-acre wilderness area at the southeast corner of Napa. It's managed by a non-profit organization formed to protect the area. You'll find lots of wildlife, including deer and wild turkey.

Skyline has over 25 miles of trails for hiking, biking and equestrian use. The two-and-a-half mile main trail leads to Lake Marie at the eastern end. There's also an alternate route along the ridge trail which is a much better workout, but is not for those out of shape. From this trail on a clear day, you can see San Francisco Bay, Mt. Tamalpais and Mt. Diablo. Beautiful.
Make your own reservations (spots limited, of course) at Skyline Wilderness Park website.
Let me know when you register and what site you selected.
No meals provided - bring your own meals (COVID, etc)
Great walking, bike riding, hiking and relaxing (click for more info).
Nearby Archery Range and Disc Golf.
No dogs on trails.
From a member who recently visited the park:
There's a lovely  river trail "Vine Trail" for walking and biking starts at Kennedy Park just west of Skyline south of the college. Goes almost all the way up valley some sections not completed but nice stroll or ride up to downtown - have lunch on the River - several great places to eat. 
The wildflowers should be out in full force on the many Skyline Park Trails   There's serious biking from recreational up to Lake Marie  to serious off road mountain biking in the park. Also horse camping! 18 hole disc golf and archery area. No firepits but can have contained propane units. 
You can kayak the Napa River with launches at Kennedy and downtown. Golf is also at Kennedy Park.