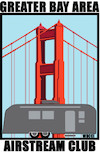 Welcome to the Greater Bay Area Airstream Club of Airstream Club International - a club for owners of anything Airstream: travel trailers, motorhomes and Airstream mini-vans.
Who are we? We are a group of people of all ages that love to go camping, socializing and spending time in our Airstreams.  We are informal, with diverse interests but united by our love of our Airstreams.   If you have an Airstream and would like to spend some time with others who share your passion for our beautiful units, we invite you to join us. The only requirement to join is that you must own an Airstream.
What do we do? We have numerous weekend Rallies each year where we visit beautiful scenic destinations within our lovely state of California.
Our Rallies are informal, marked by activities, socializing, great food, people and a wealth of information about everything-Airstream. Our Rallies occur at private campgrounds with full hookups, as well as "dry camping" at Regional, State and local camping areas.
Casini Family Ranch Rally
Our Club enjoyed a joint Rally with Sacramento Valley Airstream Club at Casini Family Ranch on the Russian River and coastal area. Great time with friends, outings, and member-cooked paella.
Greater Bay Area Airstream Club Events