As you know, Balloon Fiesta 2020 has been cancelled.  And New Mexico has closed all the parks and issued a mandatory quarantine of two weeks for anyone who enters New Mexico.  That obviously would make a caravan into New Mexico not viable.  While that is two months away, if the state re-opens we can do the caravan.  But if not, it will be cancelled.  We will keep you updated on the status of the Three State Caravan.
Three State Caravan- This is a laid-back caravan in which you can travel at your own pace and  join/leave  as your schedule permits. Beautiful scenery, great New Mexican cuisine, cooler weather and the fantastic smell of roasting chili peppers  are sure to make this a trip to remember.  This rally ends in Albuquerque, New Mexico just before the start of Balloon Fiesta National Airstream Rally. 
Sunday September 20th depart Great Plains State Park in the Wichita Mountains of Oklahoma (if applicable)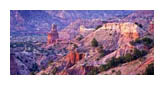 Sunday, Sept. 20th and Monday, Sept. 21st Palo Duro State Park, Canyon, TX   Reservations to be made by phone (512) 389-8900 with the Texas State Parks reservations system  or 
https://tpwd.texas.gov/state-parks/palo-duro-canyon/feesfacilities/campsites  Reserve a site  in the Juniper, Sagebrush, Hackberry or Mesquite  loop (in that order). The second-largest canyon in the United States and it is roughly 120 mi long.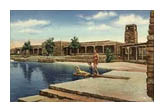 Tuesday, Sept 22nd Bottomless Lake State Park, Roswell, NM https://newmexicostateparks.reserveamerica.com/campsite  (Cannot reserve before March 20th, 2020). Located along the Pecos River, about 15 miles southeast of Roswell. Established in 1933, it was the first state park in New Mexico.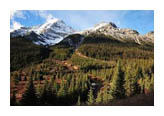 Wednesday, Sept 23rd and Thursday, Sept.24th Ruidoso NM, Twin Spruce RV Park, http://www.twinsprucervpark.com/contact.html , (575) 257-4310, $41.00 night for full hookup. Ruidoso is a village in New Mexico, set in the Sierra Blanca mountain range. The altitude is 6920 feet.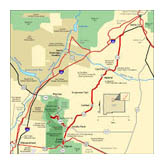 Friday, Sept. 25th -- Turquoise Trail RV Park in Cedar Crest, NM http://www.turquoisetrailcampground.com/rv-sites.html , (505) 281-2005, $30-35/night. After departing Ruidoso have lunch in San Antonio, New Mexico at the famous Buckhorn Cafe (their Green Chile Cheeseburger won Beat Bobby Flay). Then travel briefly up Route 66 to the start of the Turquoise Trail National Scenic Byway. Named for the rich turquoise deposits found throughout the area, this byway carves through wild rock outcroppings, piñon and juniper-dotted hills, and a couple of delightfully quirky towns.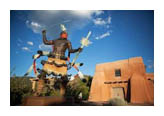 Saturday, Sept. 26th, Sunday, Sept. 27th and Monday, Sept. 28th Santa Fe, NM,  Santa Fe Skies RV Park http://www.santafeskiesrvpark.com/   Santa Fe Skies RV Park, Toll Free 1-(877)-565-0451 or  (505) 473-5946, $65/night, full hookup. Santa Fe, New Mexico's capital, sits in the Sangre de Cristo foothills. It's renowned for its Pueblo-style architecture and as a creative arts hotbed. Founded as a Spanish colony in 1610, it has at its heart the traditional Plaza. The surrounding historic district's crooked streets wind past adobe landmarks including the Palace of the Governors.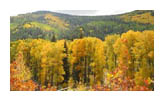 Tuesday, Sept. 29th and Wednesday, Sept. 30th Angel Fire, NM Angel Fire RV Resort, 12 miles from Taos, NM, https://angelfirervresort.com/# , (855) 421-0308. $65-75.00/night, full hookup. From Santa Fe, drive the High Road to Taos. Rich in history, art, and culture, the High Road to Taos Scenic Byway is a winding route from Santa Fe to Taos through the Sangre de Cristo Mountains where Native Americans and early Spanish settlers lived. The Aspen trees should be gorgeous this time of year!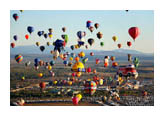 Thursday, Oct. 1st, 2020  Albuquerque, NM  Enchanted Trails RV Park  http://www.enchantedtrails.com/ , (505) 831-6317, $65.00/night for full hookup.  Those lucky enough to get in Balloon Fiesta National Airstream Rally will caravan to Balloon field on Friday morning.  For those unable to secure a spot, Enchanted Trails offers a great alternative - but book early!!!