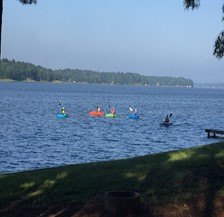 We return to this great venue in Northeast Texas.  One of Laura and Bill Keating's favorite sites.  Two hours and fifteen minutes from downtown Fort Worth.  
We will rent their pavilion for Friday and Saturday nights in case of some precipitation.  Reservations can only be made two months in advance.  They now have premium full hookup sites as well as water/electric sites.  You will receive a reminder email when the reservation window opens in early March.
Fun in the sun!!
Fishing, kayaking, swimming and our usual Happy Hour.   A fishing tournament with prizes to the winners. 
We will continue to use only open sided venues, not go into other's rigs, maintain social distancing and mask wearing when appropriate, but we will camp and have fun.
For information and to make reservations visit https://www.fcwd.com/content/lake/parks.php Reservations can be only made after March 7th.
Please let us know if you plan on attending by email: heartoftexascampingunit@gmail.com