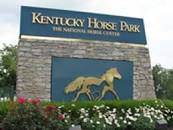 Utilities:  Water and electric only.  Dumpstation(s) available.
When you call to make reservations, tell them you are with the Kentucky Airstream Club.  The contact person is Dawn. This year don't worry about rain.  We have use of the shelter the entire time and our sites are adjacent to the shelter.  Also, the Springtime in Kentucky rally will be there and will be sharing a meal with us on Friday night. 
Thanks to Artie and Pam Martin for hosting this rally.