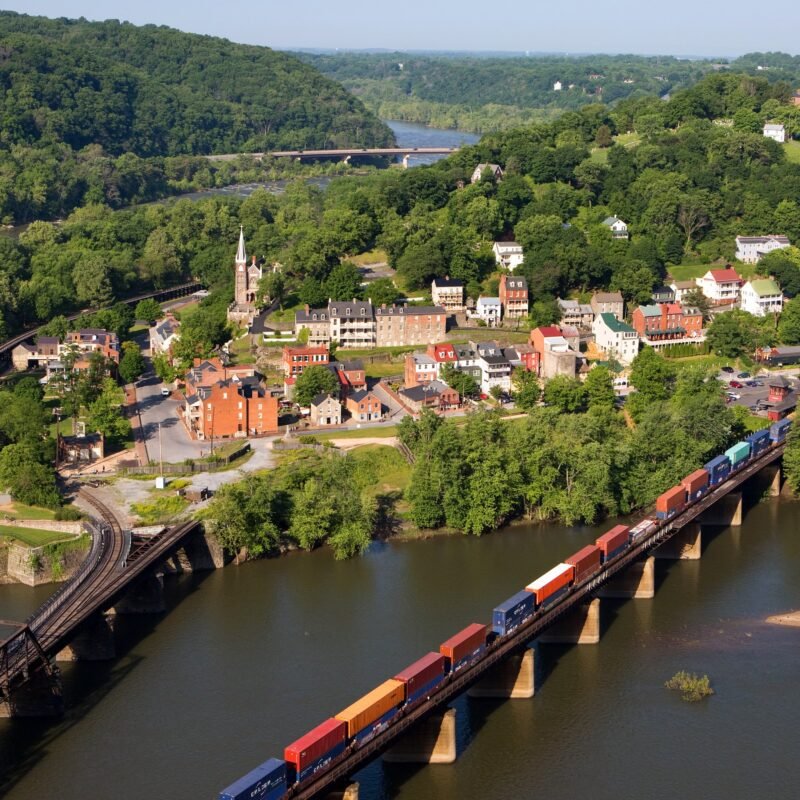 Rally Fee: $20 per person (Includes: parking, shuttle, guided tour, and chili dinner)
Please submit your check to Sue Shepard, PO BOX 702, Falling Waters, WV 25419 by January 15, 2022.
We will start the day at 1 p.m. at the Train Station and make a day of it. Plans are still being finalized with the National Park Tour Guide but, we plan to stop at the following exhibits:
The Point: no doubt, one of the mesmerizing things to see in Harpers Ferry. From this vantage point, you'll catch sight of three states – West Virginia, Virginia and Maryland and a photogenic view of the Blue Ridge Mountains.
Harper Cemetery: from the Lower Town, we'll take an easy hike up to the up to this cemetery and savor stunning panoramas of the area. While there, see the cemetery's most notable residents, including Revolutionary War heroes.
Jefferson Rock: one of the eye-catching natural attractions in Harpers Ferry. Named after the renowned Thomas Jefferson, this landmark will enthrall its visitors with its wondrous rock formations. Thomas Jefferson stood on this exact rock in 1783.
Roman Catholic Historic Church: you will be dazzled with the amazing architecture, but also the sweeping views will take your breath away.
Wax Museum: a beautifully curated collection of unique dioramas with a hint of a haunted house feel.
The Appalachia Trail Conservatory Headquarters: the midpoint of the majestic Appalachian Trail – isn't just a visitor center and a convenient pit stop. It has a gift shop and educational exhibits including more than 30,000 pictures of hikers who have explored the Appalachian Trail. You can even snap a selfie on a famous iconic landmark.
We'll warm up at the end of the tour with an all you can eat Red Beef Chili, White Chicken Chili and Cornbread.
Bad Weather Date is January 29, 2022.
If you are interested in staying overnight, hotel information will be provided. If you have any questions, please call Sue at 304-261-7360 or email: shepard_sk@live.com.