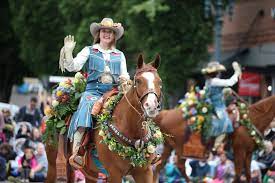 When: Arriving Monday Sept 11th, Departing Sun Sept 17th 
Where: Pendleton Community Park, 1200 SW 44th St, Pendleton, OR 97801
• Sites: 20 sites water hook-ups, no sewer or electric. One pump-out during the week
• Cost: $450 per couple, $275 single. Includes three breakfasts  and four diners including breakfast at Rooster's Restaurant with the rodeo court and Happy Canyon Princesses.  Also included in the price is a private behind the scenes tour, Wednesday Rodeo ticket(s), a Tamastslikt Cultural Institute tour, and the Happy Canyon Night Show.
.
• Host: Amy D'Abbraccio, Deborah Bede
If you have never been to the Pendleton Round-Up, you need to add it to your bucket list. You will get a chance to meet and dine with the Pendleton Rodeo Court and Indian Princesses, get a behind-the-scenes tour of the rodeo, and attend the Happy Canyon Night Show.  Experience the Westward Ho Parade, the only parade without any motorized vehicles. Tickets are also available for the Pendleton Underground Tour for a lively look into Pendleton's infamous and entertaining past. We share breakfast with the local track team with Wally Byam's favorite: Oatmeal and Ice Cream.  There is nightly entertainment downtown including live bands, local food, and shops.  You can purchase extreme bull riding tickets on your own for Monday and Tuesday (finals).  We will be camping in a lovely green community park surrounded only by Airstreams about 1 mile from the arena.  Transportation to various events is available and pick you up is right at the park.  Of course, you can shop and tour the local Pendleton Woolen Mills.
Optional Tickets, limited quantities:
• Friday Rodeo $32 each
• Saturday Rodeo (finals) $32 each
• Tuesday Pendleton Underground Tour $20 each
Cancellation policy:  Full refund if you cancel prior to 45 days out.  If less than 45 days, no refund (except if you purchase extra rodeo tickets, you will get 80% of their price).  No refunds on underground tour tickets.