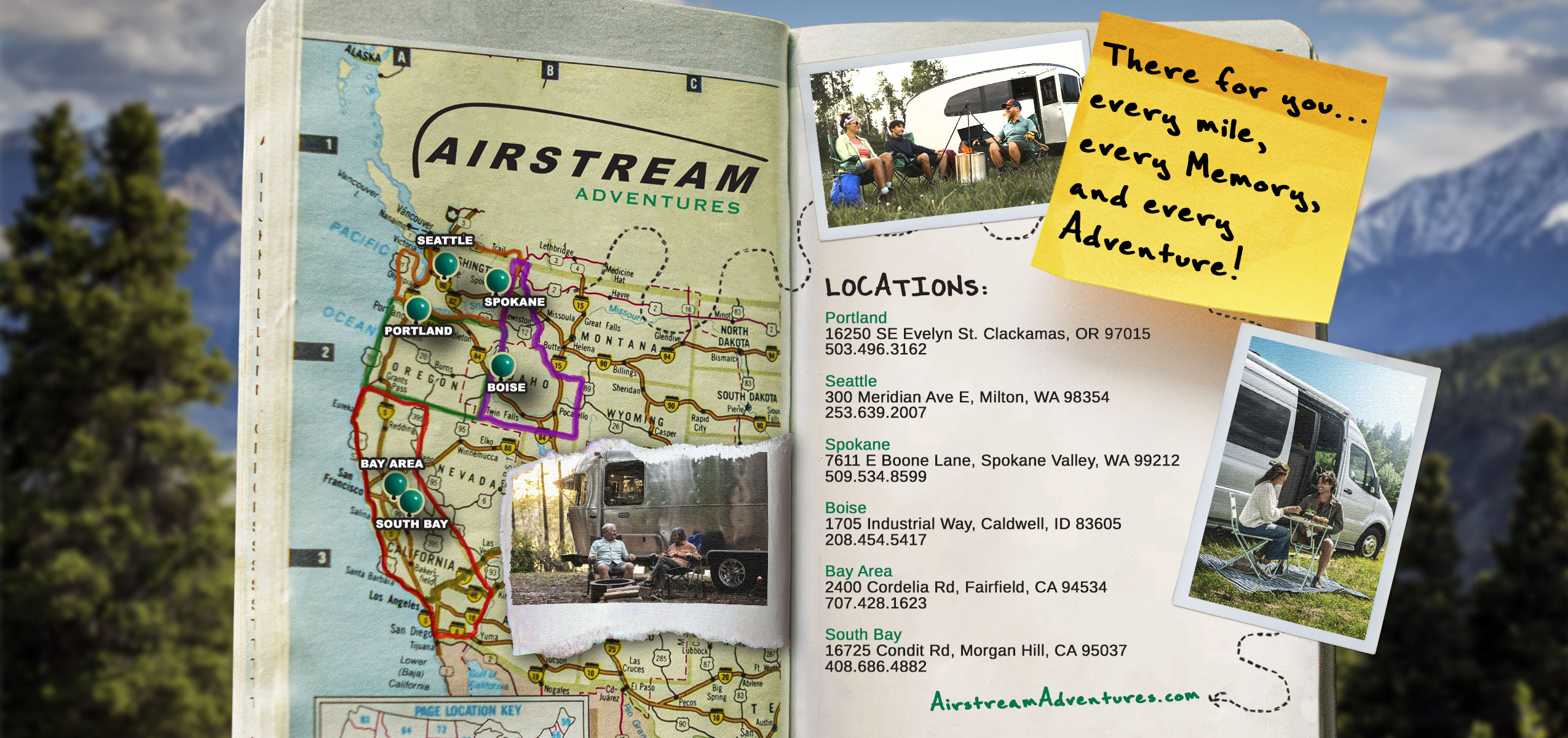 Airstream Club International

Region 10 Rally
 
Four days of fun, friendship, and all things Airstream at the Region 10 Airstream Club International Rally June 1 – 5, 2022, located at the NW Washington Fairground and Event Center in Lynden, WA, 1775 Front St, Lynden, WA 98264 

Lynden is located north of Bellingham, just south of the US / Canada border, and is the home of Washington State's largest Dutch settlement.  Conveniently located with easy access to Puget Sound and the San Juan Islands, British Columbia, Canada, the North Cascades, Whidbey Island, and the Olympic Peninsula. Hosted by the Washington and Idaho Airstream Clubs. 
         Registration Costs:
Due to the generosity of Airstream Adventures NW (locations in Seattle metro, Boise, Portland metro, Spokane metro, and the California Bay area), we are able to offer a reduced cost of registration for everyone plus provide dinner on Saturday night including vegetarian options. 
On-site Parking
$230 per rig with 2 people
$165 for a single attendee.
"Drive-in" rate 
$160 for 2 people
$85 for single  
(additional $25 for each person 3 and over)
                  
        Registration Includes:
Four nights of sites with 20 amp electricity, shared water (bring extension hoses), clean bathrooms and showers available on-site, and dumpsite available for $5.

Deluxe goodie bag for each trailer upon arrival.

Ongoing educational seminars by the host Washington and Idaho Clubs.

Hawaiian Shave Ice Truck with (1) shave ice for each paid attendee.

Movie night with refreshments and a showing of Lucille Ball and Desi Arnaz in The Long, Long Trailer. 

Tour of Trailers hosted by Ultimate Airstream highlighting upgrades to member trailers and drawing for prizes. 

Social Hour refreshments will be hosted two evenings by the Washington and Idaho Clubs.

Silent auction with donations by members and including gift baskets donated by each of the seven region clubs to raise money for local nonprofits who work with food insecurity and the elderly.

Live entertainment one evening (bring your dancing shoes)!

Saturday Night Dinner from Burnt Ends Barbecue in Lynden. 
Optional charge events selected at time of registration:
Five-hour Whale Watching Cruise with luncheon (vegetarian option available), regularly $150 person but subsidized by Airstream Adventures Northwest with a reduced price of $50 per person, limited by boat size to the first 100 attendees to register. PLEASE NOTE: Cruise requires proof of full vaccination and can be uploaded at the time of registration.

Continental Breakfast Package $32 including fresh Lynden Dutch Bakery items for four mornings, fresh fruit, coffee, etc.

Friday Night Dinner after Whale Cruise. Package $19 Per Person provided by Mi Pueblito, local Mexican Restaurant and Food Truck. Vegetarian options can be selected.

Washington State Tax, gratuities, service fees, etc. included in all optional charge events pricing.
 
Cancellation Policy: Cancellation/refund received by April 15th will be assessed a $25 cancellation fee to cover non-cancellable expenses.  Cancellation/refund requests after April 15th will be assessed a 50% fee.  NO refunds after May 15th.
Parking Policy: Parking crews will assist in parking as trailers arrive. If you want to park with friends, please arrive with them at the fairground.
Vaccination Policy: As stated above, participation in the whale watching cruise and luncheon requires proof of full vaccination.  The current policy for Airstream Club International events does not require vaccination unless required by a vendor or local governance but is subject to review.  If that policy changes, all registrants will be notified and a full refund will be offered if the registrant is unable to provide either proof of vaccination or proof of a negative Covid test 24 hours prior to June 1.
Rally Full?  Contact Kathy Geese to be placed on the wait list. You will be notified in case of a cancellation.
 
Lynden was heavily impacted by the closure of the border and loss of Canadian tourism due to COVID, and by the winter's devastating flooding in the region impacting homeowners, businesses, and farms.  We are encouraging attendees to Support Lynden Small Business by shopping, perhaps dining out locally on the evenings where the optional dinners are not offered, etc.  Airstreamers are known to be generous to those in need and thank you for supporting the local community.
Out of an abundance of caution and a sincere concern for health and safety of our members, your leadership is requiring that we practice social distancing, wear a mask indoors and sanitize hands often.