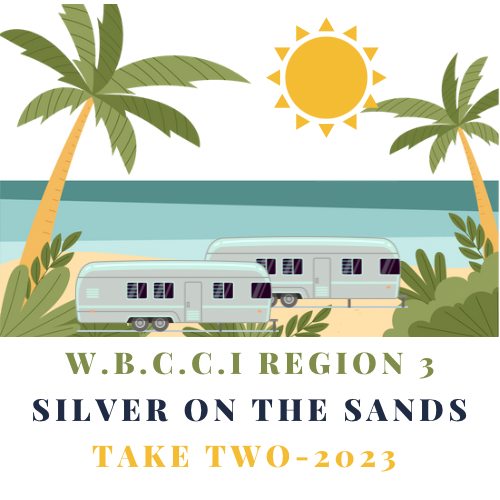 Reserve your campsite now for fun in the sun with your airstream friends! The rally rate is $50.40, per night, and is available only from Sunday, March 26, through Sunday, April 2. Note: the park fills quickly, so reserve your site as soon as possible. Official planned rally activities will run from Wednesday, March 29 - Sunday, April 2, 2023.
Rally reserved sites are in H, HH and I Sections. Call Ocean Lakes Family Campground, at 877.510.1413, to reserve your site. NOTE: TO RECEIVE THIS SPECIAL RATE, AND GET ONE OF THE RALLY RESERVED SITES, YOU MUST MENTION THAT YOU ARE PART OF THE "AIRSTREAM REGION 3" GROUP.  DO NOT BOOK ONLINE. ONLINE REGISTRATION WILL NOT ALLOW YOU TO RESERVE A SITE IN THE RALLY SECTIONS.
All sites are paved, so they don't designate any handicapped site parking. Ocean Lakes also rents golf carts to help you get around the park.
Click here for the Rally Registration form. Rally fees will be due time of completing the registration. We prefer that you register and pay for the rally online.
================================
If you don't yet have a site, you can call Ocean Lakes directly at 1.877.510.1413 to see if they have open campsites. We have used up our allotted block, but some additional sites may be available. Let us know if you're able to get a site by then registering for the rally. 
If you already have a campsite, please be sure to officially register for the rally. We still have about 35 airstreams that have a campsite but haven't yet registered. 
If you unfortunately need to cancel, please let us know first before you cancel your campsite. We'd like to get an Airstream in that spot, if possible. 
You can cancel your rally registration by completing the following rally cancellation form—-
https://form.jotform.com/230234435793153
=================================
From the Region 3 President (January 2023)
First Mate Joe Baum and I are excited about hosting our first Region 3 rally at Ocean Lakes Family Campground in Myrtle Beach, South Carolina. Approximately 145 sites in the campground near the action have been claimed, and we still (as of mid-January) have 25 or so additional sites within the reservation block for the campground. You will love the proximity to the onsite Recreation Center building where most of the planned rally activities will take place and also to the beach.

There will be live entertainment, vendor booths, seminars of many types, happy hours, of course meals and opportunities for day trips to many great restaurants, nearby gardens, shops, golf courses, the beach, and much more. We are calling this year's rally "Silver On The Sands, Take #2". Registration for the rally, which is separate from your campground reservation, can be completed by clicking the link below. Our preferred payment method is PayPal, but you can send in a check if you prefer.

This year, the ACI Region 3 Board selected The Shepherd's Table as our local charity. This great charity in Conway, SC, provides lunch and dinner - five days a week, monthly fresh boxes of fruits and vegetables, and a homeless pantry featuring food with easy-open 'pop-tops' for those in need in the Myrtle Beach area. The director will also join us at the start of the rally to talk more about this non-profit and its mission. You will be able to help Region 3 support this charity by purchasing raffle tickets at the rally.

Again, we welcome your attendance and participation at the Silver On The Sands, Take #2. Please ensure you have separately made your own camping reservations at Ocean Lakes Family Campground (ph# 877.510.1113 and reference 2023 Region 3 Airstream rally).

We will need much volunteer help to make the rally successful. Many hands make light work! You have an opportunity to sign up to assist when completing the rally registration form.

Deadline for rally registration is Wednesday, March 15, 2023.

All the best and see you down the road!

Christine Baum, #257 & #4814

Region 3 President
========
If you need to cancel your rally registration, please use the following form on or before Wednesday, March 15, 2023: